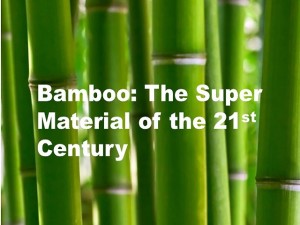 From a 'poor man's timber' to 'green gold', bamboo is fast emerging as the super material of the 21st century. It is one of the fastest growing and highest yielding renewable natural resource making it a good substitute to wood in mitigating pressure on natural forests. Bamboo is a family of grass; it matures in as little as 3 to 5 years much faster than hardwood trees. It sends out new shoots after each harvest. Bamboo has unrivalled capacity to capture carbon. 
Bamboo has immense economic potential.
Bamboo flooring is a hot trend. It is uniquely attractive, strong, resilient, moisture and stain resistant and environmentally friendly. By embracing emerging bamboo technology, Bamboo can find its due place as an environmentally friendly, natural and stronger than most hardwood alternative.
We're taking a closer look at @Cali_Bamboo to see what makes #bamboo such a #sustainable & durable flooring option. https://t.co/V9nJURJizZ pic.twitter.com/kcA5FTf617

— TreeHouse (@TreeHouseOnline) July 20, 2017
Bamboowood offers the sheen, durability and luxurious finish of hardwood—but without the ecological damage. Its beauty and finish lend an aura of opulence to any residence, office space or recreational arena. Bamboowood can be used to build flooring, Electrical wire coverings, interior walls, ceiling, doors & windows for home indoor. External use of Bamboo as a construction material could be for structural frames, corner posts, beams, roofing, exterior walls. Bamboo is heartier than oak and stronger than steel.
Bamboo Charcoal has found extensive use in personal & healthcare products. Many nutritious and active minerals can be extracted from bamboo – these have anti-oxidation, anti-aging, anti-bacterial and anti-viral functions. Bamboo toothbrushes, bamboo charcoal toothpaste are finding extensive use across the world.
Mabox Bamboo Charcoal Deep Clean Mask Remove Peel Off Anti Face Mud Mask https://t.co/3I0FxiIINT pic.twitter.com/upZcRF6M6q

— steve davidson (@bestcoconuts) August 5, 2017
From Super deluxe eco homes in modern eco villages to affordable bamboo homes in flood affected areas; this is yet another big opportunity.
Magical houses, made of bamboo.https://t.co/B99EQaymWf
You've never seen buildings like this. The stunning bamboo homes built by …

— Maestro Cursos (@MaestroCursos) July 30, 2017
Bamboo Bicycle projects has become a huge success in driving socio economic development. Bamboo bicycles are stiff, transferring power efficiently; are durable, resisting damage from stress and impacts; are comfortable, surpassing aluminium, steel, titanium and most carbon frames in smoothness.
Bamboo #fixedbike build by Lucas. Nice two tone finishing. #fixed #fixedbike #handmade #fixielife #urbanbike pic.twitter.com/lLCKxOtq1m

— Bamboo Bicycle Club (@BambooBicycle) August 2, 2017
Bamboo Shoots has Nutritional Properties of Bamboo: it has big potential and prospects for Utilization as a Health Food. 
Also read: Bamboo shoots: It has immense health benefits and can enable income generation in villages
Asian countries like China, Indonesia, Taiwan, Philippines, Malaysia, and Vietnam are making tremendous progress in Bamboo and truly proving that Bamboo is Green Gold. We need promote the social, environmental and economic advantages of Bamboo to build youth engagement in bamboo cultivation and bamboo entrepreneurship.
India has the second largest reserves of bamboo in the world. Leveraging this can spur gainful employment and income generation especially in states like Assam like the rest of North East India has substantial bamboo reserves and bamboo is an intrinsic part of the local culture.
Last day to save 15% on modern, eco-friendly, bamboo furniture from Greenington! This stuff is amazing! https://t.co/VT3alz6Avm pic.twitter.com/Jbv4hZujXt

— Smart Furniture (@SmartFurniture) July 9, 2017