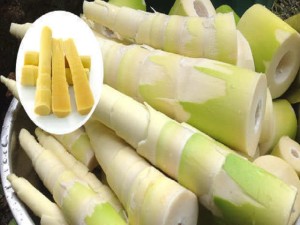 Bamboo shoots or bamboo sprouts are the edible shoots (new bamboo culms that come out of the ground) of many bamboo species. They are used in numerous Asian dishes and broths and are sold in various processed shapes, and are available in fresh, dried, and canned versions.
Bamboo Shoots have a number of health benefits including improving appetite and digestion, weight loss, apart from serious medical benefits like curing cardiovascular diseases and cancer.  Research is now hailing it as a modern natural medicine. It can improve cholesterol levels.  Bamboo shoots are an excellent source of potassium, a mineral that's been shown to lower blood pressure. Since bamboo shoots are high in fiber content, they help in preventing constipation and promoting healthier bowel movements. Phenolic acids are also found in bamboo shoots which have antioxidant and anti-inflammatory properties. This phytochemical is also believed to prevent cancer and reduce the risk of hardening of the arteries.
Gang Keow Wan Gai – Very popular #Thai dish.
Spicy green curry with chicken in coconut milk, bamboo shoots & herbs. pic.twitter.com/AR4hjKsXGn

— Tom Yam (@TomYamThai) August 5, 2017
A traditional forest vegetable in China for more than 2,500 years, bamboo shoots rank among the five most popular healthcare foods in the world. In Japan, the bamboo shoot is called the King of Forest Vegetables.
While there may be some amount of consumption of Bamboo Shoots in North East India, the rest of the country is hardly aware of its edibility. It is one of most neglected food commodity and its consumption is only in the form of pickles or in high end hotels or restaurants who use only imported shoots.
The perfect mix of flavour! Finely chopped fillet of chicken, stir-fried bamboo shoots, water chestnuts, carrots and cashew nuts. pic.twitter.com/aGWmv4PqI0

— Pacifica Cantonese (@PCantonese) August 5, 2017
High moisture content of bamboo shoots make them easily perishable giving space for the growth of undesirable micro-organisms like bacteria, molds and yeasts. Canning has been observed to be effective in abating rancidity and preventing the growth of micro-organisms in bamboo shoots. Canned bamboo shoots can be satisfactorily preserved and can be used frequently in various food items such as vegetables or pickle condiments.
Dynasty Canned Sliced Bamboo Shoots, 8-Ounce (Pack of 12) https://t.co/SeOKY3qLQH#food #recipes pic.twitter.com/WtTbsBoLAI

— My Food Mart (@chevya92) April 15, 2016
China is the largest exporter of bamboo shoots followed by countries like Thailand and Taiwan. India on the other hand is importing canned bamboo shoots. Across various top departmental stores we come across imported canned bamboo shoots; whereas even though we are the country with second largest bamboo reserves, there is no domestic bamboo shoots brand. While this is indeed shameful, this also offers us a huge opportunity.
Lin'an County in Zhejiang province of China is an example how bamboo shoot industry lead to employment generation and enhanced the GDP of the region. Lin'an County began to develop large-scale industrial purpose bamboo shoot plantations in the 1980s. The bamboo shoot plantation area in this county increased from 2180 ha in 1982 to 20,000 ha in 2002; at the same time, the annual fresh shoot production increased from 7280 tons to 135,250 tons. The annual per capita income of the local villagers during the increased to US$ 644 in 2002 from less than US$ 50 in 1980. Poverty was eradicated in the region and approximately 65% of the rural population got involved in bamboo shoot industry.