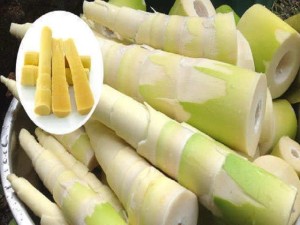 Are you health conscious? Are you trying to find healthy, organic and tasty new recipes?  Then it's time for you to try Bamboo shoots. Bamboo shoots are free from residual toxicity and they grow without the application of fertilizers.
They have a number of health benefits including improving appetite and digestion, weight loss, apart from serious medical benefits like curing cardiovascular diseases and cancer.  Research is now hailing it as a modern natural medicine. It can improve cholesterol levels.  Bamboo shoots are an excellent source of potassium, a mineral that's been shown to lower blood pressure.
Since bamboo shoots are high in fiber content, they help in preventing constipation and promoting healthier bowel movements. No wonder, you will find that Bamboo fiber is a common ingredient in breakfast cereals, fruit juices, bakery, healthy cookies, pastas, snacks, frozen desserts, and many other food products. They come in both fresh and canned forms although the canned bamboo shoots are easier to find as compared to the fresh ones.
Image Courtesy: http://www.yadtek.com/