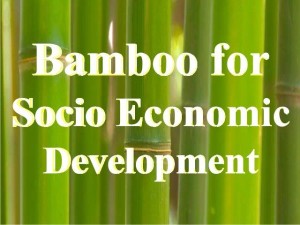 From a 'poor man's timber' to 'green gold', bamboo is fast emerging as the super material of the 21st century. It is one of the fastest growing and highest yielding renewable natural resource making it a good substitute to wood in mitigating pressure on natural forests. Bamboo is a family of grass; it matures in as little as 3 to 5 years much faster than hardwood trees. It sends out new shoots after each harvest. Bamboo has unrivalled capacity to capture carbon.
Bamboo has immense economic potential. Bamboo flooring is a hot trend. It is uniquely attractive, strong, resilient, moisture and stain resistant and environmentally friendly. Bamboo is also increasingly used for making panels & cabinets. Bamboo Charcoal has found extensive use in personal & healthcare products. Many nutritious and active minerals can be extracted from bamboo – these have anti-oxidation, anti-aging, anti-bacterial and anti-viral functions. Bamboo toothbrushes, bamboo charcoal toothpaste are finding extensive use across the world.
From Super deluxe eco homes in modern eco villages to affordable bamboo homes in flood affected areas; this is yet another big opportunity. Bamboo Bicycle projects has become a huge success in driving socio economic development. Bamboo usage as a source of energy is another huge potential opportunity. Bamboo Shoots has Nutritional Properties of Bamboo: it has big potential and prospects for Utilization as a Health Food. Bamboo decorative handicrafts, bamboo furniture …the list is endless.
Asian countries like China, Indonesia, Taiwan, Philippines, Malaysia, and Vietnam are making tremendous progress in Bamboo and truly proving that Bamboo is Green Gold. We need promote the social, environmental and economic advantages of Bamboo to build youth engagement in bamboo cultivation and bamboo entrepreneurship.
India has the second largest reserves of bamboo in the world. Leveraging this can spur gainful employment and income generation especially in states like Assam and the rest of North East India which has substantial bamboo reserves and where bamboo is an intrinsic part of the local culture.  
Promoting the use of Bamboo as a Construction Material can kick start the growth of this sector in Assam.
Bamboo has always been popular as a building material, especially in house-building in every nook and corner of Assam. By embracing emerging bamboo technology, Bamboo can find its due place as an environmentally friendly, natural and stronger than most hardwood alternative. Bamboowood offers the sheen, durability and luxurious finish of hardwood—but without the ecological damage. Its beauty and finish lend an aura of opulence to any residence, office space or recreational arena. Bamboowood can be used to build flooring, Electrical wire coverings, interior walls, ceiling, doors & windows for home indoor. External use of Bamboo as a construction material could be for structural frames, corner posts, beams, roofing, exterior walls. Bamboo is heartier than oak and stronger than steel.
Technology enabled contemporary bamboo furniture and home living products can be the growth driver of the future of Bamboo in Assam.
With modern technology which we can see being widely used in China, Bamboo furniture can have the same structural integrity and look and design as hardwood home furniture. Being a grass, it is much lighter and more versatile. Bamboo is a great choice if you want to have a close to nature feel in your home. Ikea, the world's largest furniture retailer, plans to make India its global sourcing hub for bamboo products as part of its strategy to increase bamboo product portfolio across its stores. The company believes that India can be the game changer in the bamboo furniture industry.  Handcrafted, lightweight, durable bamboo home wares and modern home living gadgets are the eco-friendly way to complement modern homes. These products are in great demand in global markets. Assam with its intrinsic bamboo culture spread across its villages has the potential to leverage this emerging opportunity.
Bamboo Handicrafts of Assam with the adequate enabling ecosystem has the potential to take a big leap.
Bamboo and cane handicrafts has carved for itself an important place among the handicrafts of Assam. It is perhaps the most universal of all the crafts practiced by a large number of artisans scattered throughout the state. It is practiced as a household industry and no mechanical device is used. That's the opportunity one has tap into. With raw skill available across the state, all that one has to do is build the necessary ecosystem to up-skill the existing bamboo handicrafts artisans and create necessary financial and marketing linkages. Bamboo artisans has be introduced to new modern technology and trained keeping in mind emerging trends in home living products. Adequate credit facilitation backed by initiatives that build empowering market linkages can provide the much needed impetus and encouragement to artisans of Assam to produce Bamboo handicrafts not only for the domestic market, but also to export to developed global markets where the demand for eco-friendly bamboo products is very high.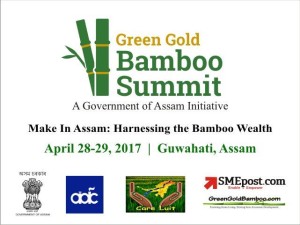 Guwahati, the capital of Assam is all set to host Green Gold Bamboo Summit April 28 -29, 2017. This thought leadership platform is a Government of Assam initiative and will bring together relevant stakeholders to deliberate & discuss new ideas, new opportunities, and new collaborations to enable the Bamboo Industry take the big leap. It will showcase Bamboo as the ultimate socio economic development opportunity bringing all relevant influencers under one umbrella to draw the Bamboo dividend.
Bamboo catchment area is exceptional in the sense that it brings under its ambit a whole swathe of artisans, micro, small and medium enterprises with a potential to position Assam as the business leader in the space.