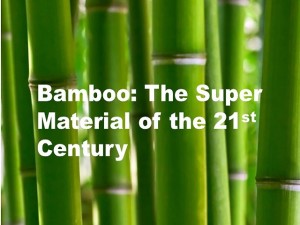 The latest developments in Bamboo product innovation across the world, accelerated and coordinated efforts by various government of India ministries and patronage offered by the Union as well as the state government by freeing bamboo from the clutches of forest officialdom are seen as some positive steps to enable bamboo realise its true potential as green gold.
It may be recalled that recent measures were taken by the Government of India to exempt non-forest bamboo from the clutches of forest officialdom are seen as a big positive for the nascent bamboo industry in the country.
The amendment approved by the Cabinet will allow free movement of bamboo and would generate the demand for raw material leading to planting of bamboo trees on non-forest land, provide employment and encourage growth of small and medium industries in the villages and smaller towns and reduce dependence on imports.
Also read: Bamboo not a 'tree' any more: President of India clears ordinance amending Forest Act
The Bamboo which is the livelihood for lakhs of people of North East, has been under a very restrictive regulatory regime. Because of this, you cannot transport or sell the Bamboo produced in your own field without the permit: PM @narendramodi

— PMO India (@PMOIndia) December 16, 2017
The government has already made several other relaxations in the bamboo sector. For instance, the export of products made from bamboo, except Bamboo Charcoal, bamboo pulp and unprocessed bamboo shoots has also been made free.
From a 'poor man's timber' to 'green gold', bamboo is fast emerging as the super material of the 21st century. It is one of the fastest growing and highest yielding renewable natural resource making it a good substitute to wood in mitigating pressure on natural forests. Bamboo has unrivalled capacity to capture carbon.  Given its immense economic potential, Bamboo can enable socio-economic development at the bottom of the pyramid through gainful employment & income generation.
India has the second largest reserves of bamboo in the world. Leveraging this can spur gainful employment and income generation especially in North East India which has over 66% of India's bamboo reserves and where bamboo is an intrinsic part of the local culture.
But unless non-official, independent experts are involved and effective hand-holding done, there is no way the bamboo sector realizes its potential. The lack of participation of private experts or independent members who have been working in the field and have gathered immense experience and knowledge is huge deterrent to the growth and development of the sector. Their presence is much needed to provide the direction and clarity which has been missing.
Forest officials have been struggling since the last 2 decades to boost growth in the sector which sadly less success. If private experts are not included at this stage, then the new initiatives of the Government will not bear the required results – this is a fear that has been echoed by many proponents of Bamboo.