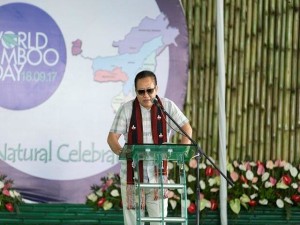 On the occasion of World Bamboo Day, Nagaland Bamboo Development Agency (NBDA) under the aegis of Ministry of Development of North Eastern Region (DoNER), Government of India organised a special event in Dimpaur on September 18, 2017. 
Addressing the audience as the Chief Guest of the event Chief Minister of Nagaland, T.R. Zeliang said that in order to realise the true potential of Bamboo and to enable Bamboo drive the economic development of the region, it is imperative that a scientific approach is adopted and implemented.
"With availability of bamboo in our backyard, a scientific and a more coordinated approach can not only enable bamboo generate gainful employment but will also go a long way in providing the much needed boost to the economy of the North eastern region", Zeliang said.
He said that though Nagaland had made impressive strides in development of bamboo as a resource over the years, there was much more needed to be done. Some of the key areas that needs to be addressed includes studying and adopting better bamboo cultivation practices, identifying and filling up the gaps in existing technology, skill upgradation, dissemination of knowledge on global trends, providing adequate financial and market linkages, proper methods of processing harvested bamboo and ensuring a steady and reliable supply of raw material. He also stressed the need for pooling of new ideas and experiences to drive the growth and development of bamboo.
"Our outlook on bamboo and its uses still remain largely traditional, localised and unorganised. We therefore need to re-orient our approach especially in the light of the fact that our region is home to almost 60% of the country's bamboo reserves" he said while addressing the World Bamboo Day celebration at Nagaland Bamboo Research Centre (NBRC), Dimapur.
The Chief Minister thanked Ministry of Development of North Eastern Region (DoNER), Government of India and North Eastern Council (NEC) for their continuous support and timely interventions in driving the future of Bamboo in the region. He appreciated DoNER ministry's decision to upgrade the Nagaland Bamboo Development Agency as Regional Bamboo Research Centre (RBRC), and congratulated it for successfully charting out the roadmap for the formation of 'North East Bamboo Development Council'.
"The most challenging task for the newly christened RBRC would be in meeting the demands for providing expert advice and guidance on all matters relating to bamboo development, envisioning development of cane and bamboo, research and conception of innovative and tangible action plans and making NBRC truly a centre of excellence," the chief minister observed.
Naveen Verma, Secretary Ministry of DoNER, was the guest of honour of the event. He along with Chief Minister Zeliang also participated in a Bamboo plantation initiative at the Nagaland Bamboo Research Centre.
Planting a sapling of Dendrocalamus Nagaladeana species along with Naveen Verma IAS Secretary @MDoNER_India on #WorldBambooDay pic.twitter.com/h2dFw1t4rC

— TR Zeliang (@TRZeliang) September 18, 2017
ALSO READ: Ministry of DoNER Secretary Naveen Verma bats for a robust North East India Bamboo Development strategy involving all stakeholders