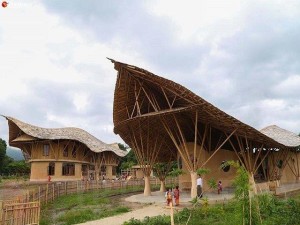 The Inle Region is located on the western edge of the Shan plateau in eastern Myanmar. It stretches from the mountain tea plantations around Pindaya to Samkar at the southern end of the lake; the gateway to Kayah State.
On a four-acre plot of land in Chaung Sauk village, surrounded by the Shan hills and near one of Myanmar's most popular tourism locales, three bamboo buildings resembling spaceships draw nearly every passerby's attention.
At first glance, these bamboo and earthen structures northeast of Inle Lake could be mistaken for another new hotel or guesthouse. But seesaws and slides in front of the compound reveal that it has been built with children in mind.
It is the very first private school in Nyaung Shwe—an area known in Shan as Yawnghwe—and is open to any child in the local community, with an affordable price tag and run by the non-profit Inle Heritage Foundation.
Inle Heritage is a not-for-profit organisation that preserves the cultural and natural wealth of the Inle region, and helps it to thrive as a place to visit, work and live.
The founder of Inle Heritage, Ma Yin Myo Su, is also managing director of two resorts: Inle Princess Resort near Inle Lake and Mrauk-U Princess Resort in Rakhine State, and has been recognized for efforts to preserve her ancestral ethnic Intha traditions and conservation of the natural beauty of Inle Lake. The 45-year-old's most recent contribution concerns an investment in education.
Bamboo as a Building Material
The unique architecture of the school is another reason why it stands out from other standard school facilities in Myanmar, which are typically multi-story concrete buildings with limited play space. Yin Myo Su described it as a mix of contemporary and traditional architectural forms that fits into the local culture and remains close to nature.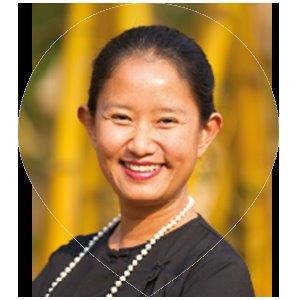 To have a school that is made up of funky, strange and irregular shapes yet still stands in harmony with the surrounding area and environment inspired Ma Yin Myo Su's fundamental vision to use bamboo as a building material for the project.
While Asian cultures have been building with bamboo since the 10th century, the medium has become increasingly popular in modern architecture and interior design as a sustainable and cheaper alternative to timber. Its advantage is that it is fast growing and does not contribute to deforestation, Ma Yin Myo Su explains.
"I want children to start thinking about sustainability, from the building itself, up to anything that they can see and imagine," she says. "Whoever is going to build either businesses or schools or clinics or houses, it is possible to build in the most sustainable way possible, and there is alternative material that we could use with what we have around us."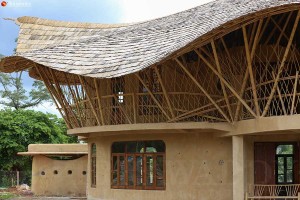 With proper insecticide treatment, bamboo structures can last several decades. It is non-polluting and, according to architects, arguably more earthquake resistant than cement and timber.
Ma Yin Myo Su also highlighted the school's construction as a chance for her employees to learn how to preserve bamboo and how to treat it so that it is more resistant and durable for longer periods. The project was completed in partnership with Thailand-based architectural and design company Bamboo Family.
Courtesy: https://www.irrawaddy.com/