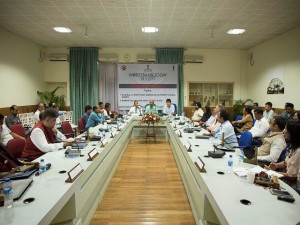 On the occasion of World Bamboo Day, a special event was held in the North Eastern State of Nagaland on September 18, 2017 by Nagaland Bamboo Development Agency (NBDA) at Nagaland Bamboo Research Centre, Dimapur under the aegis of Ministry of Development of North Eastern Region (DoNER), Government of India.
Inaugurating the event Chief Minister of Nagaland, T.R. Zeliang said that in order to realise the true potential of Bamboo and to enable Bamboo drive the economic development of the region, it is imperative that a scientific approach is adopted and implemented.
Must Read: Nagaland CM Zeliang stress the need to leverage Bamboo as a tool of socio-economic development at World Bamboo Day 2017 Summit in Dimapur
Ministry of DoNER Secretary, Naveen Verma spoke at length about the immense economic potential of Bamboo from bamboo as a building material, bamboo flooring, bamboo handicrafts, and bamboo affordable homes to bamboo shoots. He also touched upon how digital platforms can enable leapfrog the growth and development of the bamboo sector. "We need to build the bamboo value chain and an enabling organisation involving all relevant stakeholders to drive the future of bamboo Development in the North Eastern Region", said Verma.
Must Read: Ministry of DoNER and its Secretary Naveen Verma bats for a robust North East India Bamboo Development strategy involving all stakeholders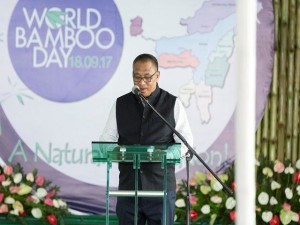 Naiba Konyak, Member, Nagaland Legislative Assembly and Advisor Nagaland Bamboo Development Agency (NBDA) spoke passionately about how Naga people have survived through ages by using Bamboo. He stressed on the huge potential of untapped opportunity to enable employment generation, prevention of soil erosion, and climate change mitigation.
The inaugural event was followed two back to back technical sessions featuring presentations by domain experts & industry leaders apart from an extensive discussion forum with State Bamboo Mission Directors.
S.N Pradhan, Joint Secretary, Ministry of DoNER while interacting with the State Mission Directors during the technical session spoke about the potential that Bamboo holds to be a key driver of socio economic development across the region. "Ministry of DoNER is committed to drive the future of Bamboo in the North Eastern Region", Pradhan said while assuring all participants of complete support and cooperation from his ministry. He said, in today's digital age, one can definitely look at expediting the entire growth and development process through the use of empowering technology solutions.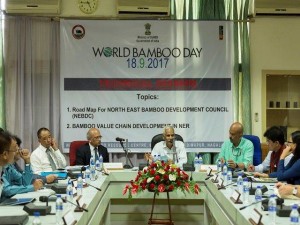 The technical session was moderated by T. Imkonglemba Ao, APC and Mission Director, Nagaland Bamboo Development Agency.  Gautam Chintey, Adviser (Banking, Industries & Tourism), North Eastern Council co-moderated the technical session.  The North Eastern Council is the nodal agency for the economic and social development of the North Eastern Region which consists of the eight States of Arunachal Pradesh, Assam, Manipur, Meghalaya, Mizoram, Nagaland, Sikkim and Tripura.
The technical session discussions also featured VL Roui Kullai and Mercy Epao. Both Kullai and Epao are Director with Ministry of DoNER, Government of India.
Speaking during the technical session, INBAR's Regional Coordinator for South Asia T.P. Subramony said T.P. Subramony said "INBAR is an intergovernmental organisation headquartered in China and has 42 Member States including India. INBAR has run projects and programmes in member countries, and provided capacity building and awareness raising on the productive use of bamboo and rattan"  INBAR's priority is to work on the use of bamboo and rattan as strategic resources that support sustainable development and their green economy action plans.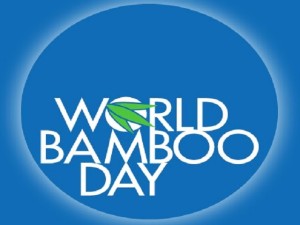 Monish Ahuja, Managing Director, Punjab Renewable Energy Systems spoke about the potential of Bamboo as a source of Bio Fuel and Bio Energy. Ahuja said, "Our Company has been successfully catering to the Biomass requirements of Independent Power Plants, Captive & Co-Generation Power Plants and processing plants covering aggregation, processing, transportation and storage, with efficient and economical Supply Chain Management systems". He spoke about how he and his company is closely working on the bio-refinery project of NRL in Assam.
Pawan Kumar Soni, MD, Keshari Udyog elaborated on the hurdles faced by enterprises producing Bamboo sticks for Agarbatti in view of the lower price offered by Chinese suppliers for similar products. He requested for policy intervention by the government to protect the interest of the micro & small Agarbatti Bamboo sticks units.
Angad Bhusri, Senior Executive from Timpack Private Limited, a leading Bamboo Enterprise based in Byrnihat, Shillong spoke about how the bamboo sector still lags behind in terms of growth & development initiatives. He opined that the sector has just not evolved in the last 15 years.  TIMPACK are the pioneers in the manufacturing of Bamboo mat corrugated roofing sheet, bamboo mat board, and plain and veneered particle board.
Bamboo Evangelist Raktim Das, representing India's First Bamboo Promotion and Bamboo Entrepreneurship development Digital platform GreenGoldBamboo.com said, "Digital has the power to empower the future of bamboo. A digitally empowered bamboo ecosystem can realise the true potential of Bamboo as Green Gold". He made reference to the digital transformation that India is going through starting from 'Cash to less cash / digital economy' to cloud based GST solutions. "Building a digitally empowered Bamboo ecosystem is the mantra to drive the future of Bamboo. Digital can expedite the growth of the sector and bring all relevant stakeholders on the same page" added Das.

Das made a presentation and spoke of an innovative initiative 'ASPIRE 1000 Bamboo MSMEs' that aimed at promoting Bamboo Innovation and Rural Bamboo Entrepreneurship. His presentation also featured interesting bamboo products and some global bamboo Ideas & Inspiration that is giving an impetus to Bamboo consumerism. Starting from Bamboo Beer, Bamboo Water to Bamboo Charcoal Toothbrushes, Toothpastes, Soaps, Shampoos, Facial creams to Bamboo Tourism Ideas to how Bamboo can be used for building Super Deluxe Residences to Affordable Housing, his presentation straddled many interesting bamboo products and ideas from around the world.
Kedar Krsuhna Panda, Assistant Vice President, IL&FS spoke about the need for policy imperatives. IL&FS has been working with Tripura Bamboo Mission as the project implementation agency to conceptualise and implement the project. Based on a "Farm to Market" approach, TBM aims to optimise the end-to-end value chain spanning from plantation and resource generation to marketing of value added finished products.
Krishna Kumar, scientist of North East Centre for Technology Application and Reach (NECTAR), in his presentation on bamboo product constraints to productivity and marketing, said, "Bamboos are especially used by NECTAR during several disaster relief works due to its property – lightness and flexibility. In the cold regions, we used double layer insulation with thermal insulators between the layers to keep the make shift houses warm."
Dr. Peter Gross, Project Director, GIZ was also part of the technical session. GIZ is a service provider and assist the German Government in achieving its objectives in the field of international cooperation. His company offers demand-driven, tailor-made and effective services for sustainable development.
Export Promotion Council for Handicrafts (EPCH) the apex organization of trade and industry for promotion of handicrafts was represented at the World Bamboo Day technical session by Jesmina Zeliang, COA Member, EPCH and Executive Member, Handicrafts and Carpet Sector Skill Council. She also exhibited some interesting products manufactured and exported by Cane Concepts. The company specializes in a wide range of natural fibre products ranging from furniture, table ware, basketry which are all hand-crafted to precision.