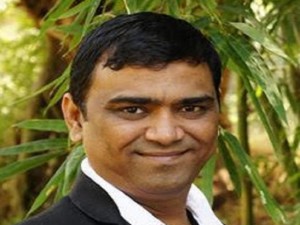 Yogesh is an agricultural entrepreneur who started Bamboo India, a company that makes bamboo-based eco-friendly products. The company has engaged farmers from the village Velhe, near Pune in Maharashtra, to manufacture products like toothbrushes, speakers, clothing pegs, desk organizers, utility stands and sky lanterns from bamboo. Although the company has informally been active for over two years now, Bamboo India set up their official online store only recently, in June 2016. Since then, the company has completed over 2,000 orders and has had a turnover of over Rs. 50 lakh, according to Yogesh.
"Plastic toothbrushes are the second largest plastic waste generated after plastic bags. Just in India, more than 150 million plastic toothbrushes are thrown into the garbage every month. Every part of the toothbrush – the handle, as well as the bristles – is made from petroleum-based plastic, which does not biodegrade for thousands of years. So, all the plastic toothbrushes made since 1938, when they were made for the first time, still exist somewhere on this planet", says Yogesh Shinde, Founder of Bamboo India.
"It's still a very nascent company, but we have made a good start. 2,000 orders don't exactly equate to 2000 products sold. For example, one of our clients was the company ToothBox based in Hyderabad. They had ordered 3,000 toothbrushes from us and that was just one order," he says.
Born and brought up in an urban middle class family in Pune, Yogesh had no connection to agriculture. After completing his Masters from the University of Pune, he joined the IT industry and became settled in the comfortable lifestyle of an IT professional. The change happened when he travelled to Europe and stayed at different places in the continent over a span of four years. During his stay, he came across a very different picture of farmers – independent, financially well-off and happy. He had never witnessed farmers like this in his own country.
After thorough research, and advice from Hemant Bedekar, a Pune-based septuagenarian who conducts research on bamboo, Yogesh came to the conclusion that making bamboo products could be the best entrepreneurial option for the farmers in the villages of Velhe, Bhor, Panshet, and Mulshi, all adjacent to Pune.
He then quit his job as the Assistant VP of Barclays Bank, gathered 10 farmers from the village of Velhe and set up a small manufacturing unit in his farm house. Initially, everything was trial and error. Yogesh himself learned how to make the products and taught the farmers personally. He then started selling these products to his friends, family members, and acquaintances.
At present, Yogesh has a lot of plans for the expansion of Bamboo India. He has 40 new products in the pipeline and plans to engage over 100 farmer families in the business by the end of 2017. Although the company has seen a profitable beginning, there's still the major hurdle of cost effectiveness.
Though there are hurdles, Yogesh is optimistic about the future. He is currently trying to collaborate with partners from the corporate field as well as the government. The entrepreneur believes that bamboo is the product of the future and is looking forward to that future.
Source: The Better India