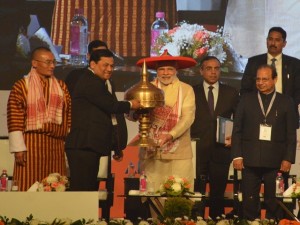 Delegates and bamboo artisans and entrepreneurs participating in the Day 2 Sectoral Bamboo Session at ADVANTAGE ASSAM Global Investors' Summit had a heyday, as the bamboo enthusiasts, pioneers and industry experts shared their insights.
Bamboo – one of the fastest growing renewable natural resource is today widely acclaimed as the super material of the 21st century. It has immense economic potential given its diverse use. Bamboo is a good substitute to wood in mitigating pressure on natural forests. Bamboo is a family of grass – it matures in as little as 3 to 5 years much faster than hardwood trees which can take 20 years or more to reach maturity. It sends out new shoots after each harvest. It has unrivalled capacity to capture carbon and reclaims land. It protects steep slopes, soils and water ways, prevents soil erosion.
India has the second largest reserves of bamboo in the world. Leveraging this can spur gainful employment and income generation especially in states like Assam and the rest of North East India, which has 66% of India's bamboo reserves and where bamboo is an intrinsic part of the local culture.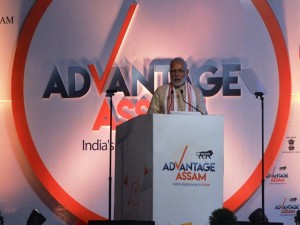 Addressing the inaugural session Prime Minister Narendra Modi said "All these years bamboo sector has suffered as it was classified as forest produce. Bamboo-growing Northeast India has suffered a lot. We are restructuring the national bamboo mission with an outlay of Rs 1,300 crore." PM Modi spent a considerable amount of time visiting the Bamboo Pavilion set up at the Advantage Assam Exhibition. 
Participants at the sectoral session felt that the time for Bamboo has arrived. The recent ordinance that omits bamboo from the definition of trees, thereby exempting it from requiring permits for felling or transportation was seen as a welcome change. The move will encourage bamboo plantations and bamboo trading. Aggressive allocation in Union Budget 2018-19 for Bamboo National Mission to promote the Bamboo sector was felt as  a positive step by all stakeholders at the Bamboo session.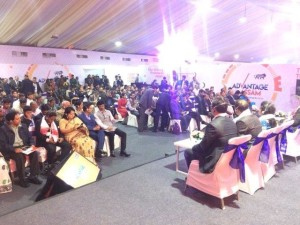 The first ever investment promotion and facilitation initiative by the Government of Assam, 'Advantage Assam – Global Investors' Summit, 2018' saw a mammoth INR 100,000 crore worth of MoUs being signed over the two days of the summit.
The event witnessed the luminaries of Indian business fraternity descending on the most talked about investment summit in the largest economy of North-Eastern India. With Prime Minister Narendra Modi's thrust on the Act East Policy, Assam is swiftly becoming the most advantageous destination for all businesses aiming to connect with the ASEAN and BBIN nations.
Sectoral session on Emerging Opportunities in Bamboo with following discussions on new initiatives for growth and development, including emerging trends and value creation in the sector at #AdvantageAssam: Global Investors' Summit 2018.

#IndiasExpressway #InvestInAssam pic.twitter.com/5h4T8Go9sx

— Advantage Assam (@AdvantageAssam) February 4, 2018
Over the two days of the summit, delegates from Australia, Bangladesh, Bhutan, Canada, Cambodia, Czech Republic, Germany, Hong Kong, Israel, Italy, Indonesia, Japan, South Korea, Laos, Myanmar, Netherlands, Nepal, Singapore, Thailand, UAE, UK, USA and Vietnam exchanged ideas with industrialists from across the country and shared their valuable insights with the Government of Assam for evolving business relations in the state.
The Sectoral session on Emerging Opportunities in Bamboo was attended by the Hon'ble Minister for Environment & Forest, Pramila Rani Brahma and moderated by Dr. Ravi Kota IAS – Principal Secretary, Finance and PRC, Assam Bhawan, Delhi. Various opportunities and challenges were presented by A M Singh, PCCF, Department of Forest, Govt of Assam and Country representative Rene Van Berkel, UNIDO spoke at length about Industries for inclusive and sustainable north-eastern livelihoods through Bamboo plantation.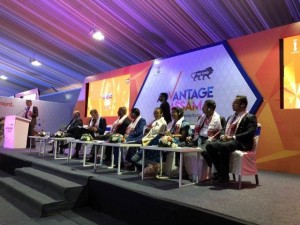 Alka Bhargava, Joint Secretary, Ministry of Agriculture and Mission Director of National Bamboo Mission, S.N. Pradhan, Joint Secretary, Ministry of Development of North Eastern Region laid down the Future Roadmap & New Initiatives for the Growth & Development of North East Bamboo Sector.
Bamboo enthusiast Raktim Das advocated entrepreneurs to be innovative regarding their products. He spoke about how bamboo innovation can drive inclusive and sustainable growth and enable positive impact to People, Planet & Prosperity.
T.P. Subramony of INBAR made a presentation on the initiatives that his organisation has implemented across the world. Bamboo Value Chain Creation for Growth of Bio-Ethanol in NE was discussed by Sanjay Ganjoo – President, Indian Federation of Green Energy and Rajiv Changkakoty – Chief Manager, NRL.
Neeraj Mutha, the progenitor of the bamboowood dream at Mutha Industries spoke about his company which produces bamboowood products under the banner of Epitome.
Sandeep Sanan, New Business Manager, South Asia of the multinational organisation IKEA shared some of the products manufactured by his company.
Bamboo Innovation in Living Spaces and in other product categories was presented by Susanth C.S, Senior Designer and Head, Centre for Bamboo Initiatives, National Institute of Design
In Assam, Bamboo is cultivated in homesteads, village gardens, agricultural lands and field boundaries. In many states, farmers grow bamboo on marginal and degraded lands as well. There are hundreds of MSMEs that produces incense sticks and bamboo handicraft products. However, going forward if the true potential of Bamboo has to be unleashed as the super material of the 21st century; entrepreneurs will need to be innovative regarding their products.
At a similar Bamboo event, Green Gold Bamboo Summit held on April 28, 2017 in Guwahati; Bamboo industry pioneers, experts and Bamboo evangelists univocally opined that 'Innovation is the Key Mantra'.
Also Read Assam CM assures all kind of assistance to investors at Green Gold Bamboo Summit