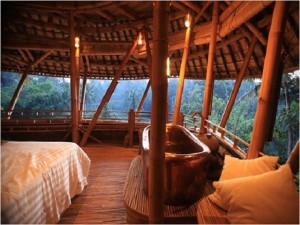 During a sailing trip in Indonesia on a traditional fishing boat, an Irish designer Linda Garland was amazed by the size of a giant bamboo outrigger. She asked the fishermen to take her to the place where it grew. This was the beginning of a journey that led her to start the Environmental Bamboo Foundation in 1993 to research and experiment with bamboo as a long-term sustainable building material. Linda's work inspired her friend John Hardy to take a greater interest in bamboo.
John soon came to see bamboo as the future of sustainable building and made a vow never to construct another wood or concrete building. In late 2007 John gathered a team to design and build the now world famous Green School. The first structure at Green School was a bridge, connecting the two sides of the river valley campus.  It stands as an outstanding example of what is possible when architects, engineers, designers, and craftsmen come together to build in a new way. The construction of Green School led to many innovations in bamboo architecture and engineering. Today, Green School in Bali is giving its students a natural, holistic and student-centered education in one of the most amazing environments on the planet.

Their daughter Elora spent the first fourteen years of her life in Bali with them and the following fourteen in the United States. In 2010, Elora left her position as the sole print designer at Donna Karan International in New York, to return to Bali to found IBUKU – an international design/build team providing fully functional homes and furniture made from sustainable material bamboo.
She took the initiative to create a master plan for Green Village set within a river valley landscape along Bali's sacred Ayung River, a master-planned community. Together she and her team of talented Indonesian designers and architects have built forty new bamboo structures in Bali. Many of these buildings now make up Green Village, a community of luxurious private homes neighboring Green School.  Elora says, "Creating spaces where people can feel connected to nature without disrupting it is a thrilling design challenge for me."
Picture Courtesy: Ibuku.com