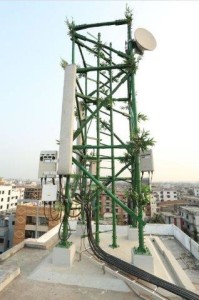 Bangladesh's capital city Dhaka became home to the world's first telecom tower constructed entirely out of bamboo. Indeed, a great testimony to the huge potential of Bamboo and how this wonder grass can simultaneously tackle two of the most pressing concerns: infrastructure investment and renewable resources.
Developed by Malaysian infrastructure services firm edotco and the Bangladesh University of Engineering, the tower took just 12 days to build, versus 28 days for a traditional steel structure, and consumed less energy to manufacture.
The company intends to roll out more bamboo structures as proof of concepts in other parts of Dhaka this year and will gradually expand to other markets where the firm is present, such as Myanmar and Sri Lanka.
Abundant throughout Asia, especially China, bamboo has long been a go-to building material for construction players drawn to its tensile strength, light weight, low cost and mass quantities. In 2007, mainland China built the world's first truck-safe bamboo road bridge, which allows a maximum load of 90 tons, according to China Daily.
One of the potential drawbacks of bamboo in construction is its susceptibility to termites, mold attacks and other adverse climate conditions, but eco-friendly treatment processes such as borax coating can help.
Bamboo has always been popular as a building material, especially in house-building in every nook and corner of Assam. By embracing emerging bamboo technology, Bamboo can find its due place as an environmentally friendly, natural and stronger than most hardwood alternative construction material.
India has the second largest reserves of bamboo in the world, and much of this is in North-eastern India. Leveraging this can create a win-win situation for economic development as it benefits industrialization, expansion of trade and productivity while driving gainful employment at the bottom of the pyramid. And as Asian heavyweights such as India and China promise to reduce their carbon emissions over the next 15 years as part of the Paris Agreement, bamboo as a renewable resource will truly emerge as 'Green Gold'.