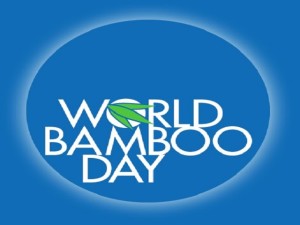 Bamboo is ecologically friendly and bamboo products are trendy, fashionable and its use will only help us live green and build a sustainable tomorrow. World Bamboo Day was declared by the Thai Royal Forest Department on September 18 in Bangkok, during the 8th World Bamboo Congress. Since then on this day, bamboo pioneers, activists, entrepreneurs, NGOs and artisans has on this day come up with innovative and various developmental initiatives and events to promote bamboo. September 18, 2104 was the 6th World Bamboo Day and it was celebrated across the world.
Centre for Forest-based Livelihoods (CFLE), Agartala, Tripura observed World Bamboo Day at their campus on 18th September 2014. The successful farmers from the CFLE initiative of Community Livelihood Nurseries (CLNs) formed the largest contingent among the participants besides several artisans and bamboo farmers from four districts of Tripura. Shri G.S. Raju, Addl PCCF, CEO & PD Tripura Jica Project graced the occasion as Chief Guest. He was accompanied by Shri Angshuman Dey, Director, NTFP Centre of Excellence, Pawan K. Kaushik, Regional Director CFLE, Dr Abhinav Kant, Incharge, Bamboo and Cane Development Institute, Dr Ram Narayan Pandey, Bamboo consultant and Md Selim Reza of TRIBAC as Guest of honour.
The Department of Botany, Panjab University, Chandigarh, assisted by Punjab Forest Department and NABARD (National Bank for Agriculture and Rural Development) is celebrating World Bamboo Day with a National Seminar cum Workshop titled "Bamboo as Wood and Food for the 21st Century" from September 18-19, 2014. Delegates attending the workshop were also given hands-on training regarding harvesting and processing of bamboo shoots. The various dishes that can be prepared from bamboo shoots were described along with their nutritional aspects. Dr. Nirmala Chongtham a professor at the Department of Botany, Panjab University, Chandigarh and Chairperson of the technical committee, World Bamboo Congress during her welcome address spoke on the importance of bamboo as an emerging food as well as a building material in many parts of the world.
In this spirit, on the occasion of World Bamboo Day 2014, Centre For Green Building Material and Technology (CGBMT), Bangalore organised a series of hands on workshops and seminar sessions. As part of celebrations, CGBMT also organised a product design competition "Bamboo style 2014" to recognize product designers working with bamboo.
The Creator folklore and contemporary concepts along with Anamala Collective Farms and Karinthalakootam together organised this year's World Bamboo Day between 11th and 18th of September, 2018 at Thumboormuzhi Farms.
On the occasion of the World Bamboo Day, Nagaland Bamboo Development Agency (NBDA) organized an essay competition for all ages with the topic "Potentials and challenges in the development of bamboo in Nagaland".
6th World Bamboo Day observed at Khangsim Village, Manipur. Symbolic bamboo plantation by the dignitaries of the function marked the beginning of the function. Traditional basketry competition was also held, with different kinds of bamboo products made by the village craftsmen taking part. Speaking on the occasion, the Deputy Commissioner of Chandel District, Robert Kshetrimayum said, "We are planting our future when we plant bamboo; the notion that the State lack resources must be changed. Bamboo can be our important resource if it is harnessed properly". Kamesh Salam, Founder, World Bamboo Day & South Asia Bamboo Foundation was also present as one of the guests of honour. "There is no doubt Manipur has a rich tradition of bamboo craft and it has been part of the lives of its people, but market is the missing link", said Kamesh Salam.
INBAR celebrated World Bamboo Day with a seminar on Bamboo Sector Development Initiatives in the Latin America and Caribbean region (LAC), at its Secretariat in Beijing.  The seminar was attended by representatives of many of INBAR's LAC member countries (Argentina, Chile, Colombia, Cuba, Ecuador, Panama, Peru, Suriname and Venezuela), plus Mexico and the UK, as well as construction experts from the INBAR-initiated bamboo housing expert group. Sukumar Haobam, a well-known designer and bamboo expert from the state presented the key issues of Bamboo Development and Design.