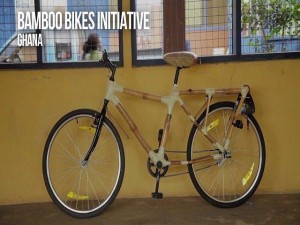 Although Ghana is rich in physical, cultural and intellectual resources, it is also a country with traffic congestion, environmental degradation, a stark urban-rural divide, low-employment and poverty.
The Ghana Bamboo Bikes Initiative (GBBI) is a socio ecological green initiative that addresses the quadruple problems of climate change, poverty, rural-urban migration and high unemployment amongst the youth in rural Ghana. It promotes sustainable development, boosts trade, creates employment opportunities for women and in thereby in the process addresses a number of United Nation's Sustainable Development Goals in the process.   
GBBI integrates the physically challenged and the underprivileged by providing training and employment opportunities. The multipurpose bamboo bikes manufactured by them are suitable for the high terrain and rough roads and purposeful for the local needs using native bamboo. Bamboo Bikes are stiff, transferring power efficiently; they are durable, resisting damage from stress and impacts and are comfortable, surpassing aluminum, steel, titanium and most carbon frames in smoothness. The increased cultivation and use of bamboo as an alternative to wood helps preserve and rehabilitate Ghana's dwindling forests.
Great eco initiative in #Ghana building #bamboo #bikes making school journeys easier @GhanaBambooBike #womeninafrica pic.twitter.com/dIM0CHnD1b

— Wild in the City! (@WildintheCity1) June 29, 2017
The Founder of Ghana Bamboo Bikes Initiative is a young female entrepreneur, Bernice Dapaah. In March, 20014, the World Economic Forum honoured Bernice Dapaah by selecting her to join its community of Young Global Leaders. Bernice Dapaah was felicitated for her Ghana Bamboo Bikes Initiative, of which she is the Founder and CEO. 
Bamboo is abundantly found in Ghana, and Bernica leveraged this to create an institution that provided employment opportunities and sustainable livelihood job skills for the local youth population through the building of high quality handcrafted second generation bamboo bikes for the international export markets.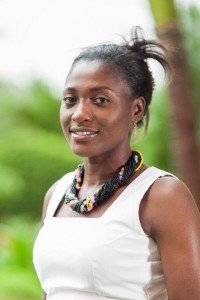 Bamboo is one of the fastest growing and highest yielding renewable natural resource making it a good substitute to wood in mitigating pressure on natural forests. It is a family of grass; it matures in as little as 3 to 5 years much faster than hardwood trees. It sends out new shoots after each harvest. Bamboo has unrivalled capacity to capture carbon. 
According to Bernice Dapaah "GBBI commitment is to generate and create employment for the youth by engaging them in the production of bamboo bicycles".
She says following global debate and concerns raised about climate change and the need to ensure the conservation of the environment, the company not only restricted itself to bike productions but also focus on large scale cultivation of Bamboos.