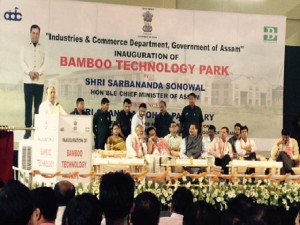 June 22, 2017 | In a major initiative towards harnessing the huge potential of bamboo in the state, Assam has come up with a Bamboo Technology Park at Chaygaon, Kamrup district of Assam.
 "India has the second largest reserves of bamboo in the world. Leveraging this can spur gainful employment and income generation especially in states like Assam and the rest of North East India, which has 66% of India's bamboo reserves and where bamboo is an intrinsic part of the local culture", said Assam Chief Minister Sarbananda Sonowal.
The Bamboo Technology Park has been set up at the initiative of Department of Industries & Commerce, Government of Assam and its primary objective is to provide infrastructure facilities to bamboo entrepreneurs against payment of user charge. An area of 60 bigha has already been developed with road, drainage, electricity and water amenities, part of which will be leased out to entrepreneurs to set up their bamboo based factories. A modern Common Facility Centre has become operational that has modern equipment for producing many innovative bamboo products.
Chandra Mohan Patowary, Minister of Industries & Commerce, Transport, Parliamentary Affairs, Skill Development & Entrepreneurship, Government of Assam who was present on the occasion said "Assam is the highest bamboo producing state, but we are yet to use it commercially up to the optimum level. This park is the first step of the government towards harnessing the potential of bamboo."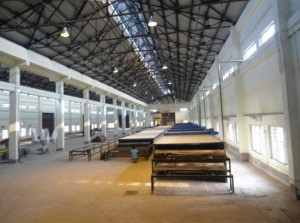 "It is the government's duty to establish industries. However, it is the people's duty to protect and support those as new industries lead to employment generation," added Patowary, urging the people to create a conducive environment for industries in Assam.
Bamboo Technology Park Ltd. is a company promoted by Assam Industrial Development Corporation Ltd. (AIDC) and a few private enterprises. This is a 'Not-for-profit' company under section 8 of the Companies Act. It was incorporated in 11.06.2010. It has set up a Bamboo cluster project near Chaygaon, Kamrup, Assam at an investment of Rupees 62 crore, which is mainly funded by Government of India, Department of Industrial Policy & Promotion (DIPP) under the Infrastructure Upgradation Scheme (IIUS).
The park has a modern Common Facility Centre for producing many innovative bamboo products like – Strand woven bamboo block making facility, Vacuum Pressure Treatment Plant, Resin Making Facility, Bamboo Stick Making Facility, Bamboo – Waste Plastic Composite Making Facility, Charcoal making facility, etc.
Bamboo – one of the fastest growing renewable natural resource is today widely acclaimed as the super material of the 21st century. It has immense economic potential given its diverse use.
Bamboo is a good substitute to wood in mitigating pressure on natural forests. Bamboo is a family of grass – it matures in as little as 3 to 5 year's much faster than hardwood trees which can take 20 years or more to reach maturity. It sends out new shoots after each harvest. It has unrivalled capacity to capture carbon and reclaims land. It protects steep slopes, soils and water ways, prevents soil erosion.
On April 28, 2107 speaking at the Green Gold Bamboo Summit held at Assam Administrative Staff College, Guwahati, Assam Chief Minister Sarbananda Sonowal assured all kind of assistance to the investors on bamboo in the state. "State government is open to all the investors on bamboo here. Our government will support any kind of activities on bamboo sector — farming and marketing. I want the investors to feel at home here and a sense of security, which is very important. Our duty is to facilitate so that you get space to carry out the business activities. Let's go hand in hand," Sonowal had said addressing a gathering of investors, experts, researchers and government officials from India and abroad at the summit.
Also Read  Assam CM assures all kind of assistance to investors at Green Gold Bamboo Summit
In Assam, Bamboo is cultivated in homesteads, village gardens, agricultural lands and field boundaries. In many states, farmers grow bamboo on marginal and degraded lands as well. There are hundreds of MSMEs that produces incense sticks and bamboo handicraft products. However, going forward if the true potential of Bamboo has to be unleashed as the super Material of the 21st century; entrepreneurs will need to be innovative regarding their products. At the Green Gold Bamboo Summit held on April 28, 2017; Bamboo industry pioneers, experts and Bamboo evangelists univocally opined that 'Innovation is the Key Mantra'.
Also Read  Innovation – Key mantra, say bamboo industry pioneers at Green Gold Bamboo Summit
The Bamboo Technology Park is indeed a big step forward to enable and empower the Bamboo Sector be the growth engine of Assam's economy. Bamboo catchment area is exceptional in the sense that it brings under its ambit a whole swathe of artisans, micro, small and medium enterprises with a potential to position Assam as the business leader in the space.