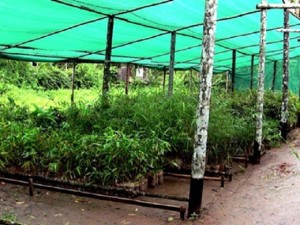 Imphal, Manipur, India, May 3, 2015:  Source: The Sangai Express.
A four-day bamboo plantation initiative jointly organised by the National Bamboo Mission, Manipur Chapter and Wa Gi Wa concluded today at Chirik Loitongkhul, Imphal West. Around 1000 bamboo rhizomes and saplings were planted at a 20 hector plantation site owned and managed by Wa Gi Wa – an Imphal-based organisation promoting plantation and wise use of bamboo.
Nine species of bamboo, both native to Manipur and from outside, sourced from the National Bamboo Mission and planters in Churachandpur district, were planted during the four day initiative. Besides native species like Maribob, Nat and Utang species like Iron Bamboo or Ferrocalamus strictus, Hamilton's Giant Bamboo and Stripped Tulda Bamboo and others which are endemic to China, NE Himalayas and other regions were planted at the site.
Speaking at the occasion, Laishram Bobby Singh, one of the founding members of Wa Gi Wa said that planting bamboos and promoting wise use of the same is the need of the hour as forest cover is fast depleting due to the ever increasing demand for wood.
"A viable solution is planting bamboos. It is the only sustainable alternative to trees. They mature fast and today we have the technology which can, to a great extent, make bamboo products substitute wood products and other construction materials. Above all it's an eco-friendly way of living," Bobby stated.
Depending on species, bamboos take three to seven years to mature while trees take much longer, for instance Teak trees takes at least 30 years to be furniture ready. In Asia, teak trees are often allowed to develop for 60 years or more before harvesting. The fast-growing and brief-life characteristic of bamboo makes it the only sustainable and affordable substitute of wood.
With around 33 species of bamboos, Manipur has 3,69,200 hectares of bamboo-growing area and a culture which practices abundant use of bamboos in varied forms. However, proliferation of plastics and other materials which contribute to environmental degradation have been gradually replacing bamboo and its usage over the decades.
The diminishing importance of bamboo is partly because the way we use bamboo has not evolved with time and is still largely confined to rural handicrafts, noted, Wangkhem Gokul, an income tax consultant and a founding member of Wa Gi Wa.
Bamboo is often referred to as a 'poor man's timber', however, new technologies and improved methods of pest proofing have made bamboo a very versatile material which can meet the demands of a modern day living, Gokul added.