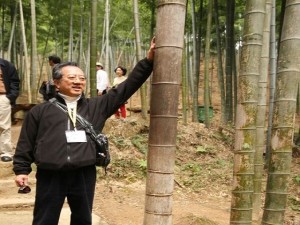 Martin Tam is a practising architect with a strong architectonic bias and specialises on micro-climatology via the planting of bamboo, innovative use of bamboo materials and products for buildings, and for indoor air quality improvement. In an interaction with INBAR he says this giant grass is the future of construction, not just in his native Hong Kong but all over the world.
"The more I looked into it, the more I felt the need to learn more about it. And the more I got involved, the more I fell in love with bamboo. Even now, I still feel quite ignorant about this grass of a plant. But that's what keeps me going as an architect, having another material to choose from. It's as if Picasso discovered another colour for his colour board. It's pure intoxication" said TAM during the interaction
Bamboo grows in tropical climates, hence unbeknown to Industrial Revolution in Europe. This lack of education and awareness on such a valuable resource also goes a long way to explain the currently unfavourable regulatory environment in most countries, although this is slowly changing.
Martin Tam fervently hopes that 'the bamboo revolution' is on its way and holds out hopes that some breakthroughs will be within his lifetime. He pinpoints policy change and investment in innovation and production as the key drivers of this revolution. His work at university level, and even with secondary school students as well as in working on demonstration sites and lobbying the government to include bamboo in local policies and school curricula are testament to his dedication.
"Bamboo isn't just a creative material. It's a tool to bring people out of poverty, and a strategic way to work towards achieving some 15 of the sustainable development goals of the United Nations. What other natural resource could work towards so many of these the goals? It's simply amazing!"