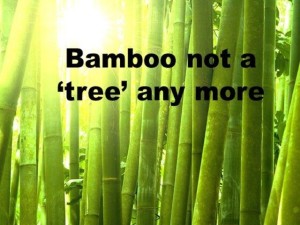 President of India Ram Nath Kovind cleared an ordinance (on November 23, 2017) amending the Indian Forest Act, 1927. The ordinance omits bamboo grown in non-forest areas from the definition of trees, thereby exempting it from requiring permits for felling or transportation. Before the ordinance was issued, the definition of tree in the Act included palm, bamboo, brushwood and cane.
The move is aimed at encouraging bamboo plantations, which will contribute to achieving the objective of doubling the farmers' incomes by 2022, sources said.
Bamboo grown in forest areas shall continue to be governed by the Forest Conservation Act, 1980, they pointed out.
The amendment approved by the Cabinet will allow free movement of bamboo and would generate the demand for raw material leading to planting of bamboo trees on non-forest land, provide employment and encourage growth of small and medium industries in the villages and smaller towns and reduce dependence on imports.
The Bamboo which is the livelihood for lakhs of people of North East, has been under a very restrictive regulatory regime. Because of this, you cannot transport or sell the Bamboo produced in your own field without the permit: PM @narendramodi

— PMO India (@PMOIndia) December 16, 2017
The government has already made several other relaxations in the bamboo sector. For instance, the export of products made from bamboo, except Bamboo Charcoal, bamboo pulp and unprocessed bamboo shoots has also been made free.
From a 'poor man's timber' to 'green gold', bamboo is fast emerging as the super material of the 21st century. It is one of the fastest growing and highest yielding renewable natural resource making it a good substitute to wood in mitigating pressure on natural forests. Bamboo has unrivalled capacity to capture carbon.  Given its immense economic potential, Bamboo can enable socio-economic development at the bottom of the pyramid through gainful employment & income generation.
India has the second largest reserves of bamboo in the world. Leveraging this can spur gainful employment and income generation especially in North East India which has over 66% of India's bamboo reserves and where bamboo is an intrinsic part of the local culture.