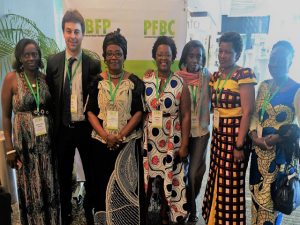 Kigali, Rwanda: On 21st December, the International Network for Bamboo and Rattan (INBAR) and the African Women's Network for Sustainable Development (REFADD) signed a Memorandum of Understanding committing them to closer collaboration in developing regional women and bamboo initiatives across Central Africa.
REFADD is a platform of civil society organizations based in Central Africa, which promotes women's participation in sustainable development processes, particularly natural resource and forest ecosystem management. The Memorandum of Understanding marks the start of INBAR and REFADD's closer collaboration in areas such as: awareness-raising and advocacy of bamboo's benefits; managing and coordinating project activities; reporting and sharing best practices on bamboo development across the region and beyond.
Since 2009, one of the members of REFADD's network, ARECO, has already been working on landscape restoration using bamboo in Rwanda. ARECO has planted 205 hectares of bamboo and helped set up a Bamboo Processing Centre to facilitate learning and employment from off-farm activities. As a result of these efforts, more than USD 400,000 has been injected into the community so far, with particularly active female participation: women make up 62% of the partners. Through the partnership with INBAR, both organizations now hope to replicate and share best practices with other INBAR member countries in the region.