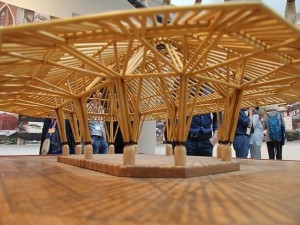 Let's make Bangalore the first city to launch bamboo nationally and be a part of this global change, says Neelam Manjunath, Managing Trustee, Centre for Green Building Materials & Technology, Bengaluru. Several institutes in Bengaluru working towards the propagation of bamboo are coming together to celebrate a Bamboo Cultural Fest to commemorate World Bamboo Day (September 18) at the Institute of Wood Science and Technology (IWST), Malleswaram, on September 24 & 25. It is a joint initiative of IWST, the Centre for Green Building Materials and Technology (CGBMT), Manasaram Architects, Bamboo Society of India (BSI), RR College of Architecture, and IPIRTI.
Architect Neelam Manjunath, along with the World Bamboo Organisation President, Michel Abadie, will be talking to the international architecture and design fraternity at the International Architecture Expo of the Venice Biennale 2016 in November. At this prestigious event that showcases the current trends in the building sector globally, CGBMT has displayed "Symphony of Bamboos."
"There were many positive outcomes of the recent 10th World Bamboo Congress held in Korea, but perhaps the most inspiring came from a mutual need expressed by both organisers, the Governor of Damyang-gun, Choi Hyungsik, and the President of the World Bamboo Organisation, Michel Abadie, who drafted an important document on the benefits and modern potentials of bamboo," says Neelam Manjunath.
With Michel Abadie in Bengaluru to take part in bamboo fests to celebrate the World Bamboo Day, Architect Neelam says, "We discussed the importance of bamboo for the Indian economy particularly in reference to the huge building sector. Lack of relevant research, database, a full-fledged Bamboo Building Code and skilled workforce is impeding the progress of bamboo usage. Making people aware about its usage and removing these roadblocks is the main goal we are planning to take up this year."
Bamboo is a perfect solution to several problems like housing, poverty, HDI, especially global warming due to development. "The development goals have to be met sustainably and construction with bamboo can be a major contributor to that. Bamboo grows almost all over India and is available locally in bamboo bazaars. With dwindling fossil fuels and skyrocketing prices of steel, cement and sand, an architecture vocabulary with bamboo, mud, stone and other local materials is the only solution," says Neelam.
According to Neelam, there are several traditional typologies of usage of bamboo in construction across the country according to the climate. "In Bengaluru too, we have many houses with bamboo in their structure over 180 years old. We are in the process of documenting some houses in the Devanahalli area," she says.
The crusaders of bamboo would be later taking up larger issues compiled from world over along with the use of bamboo in construction to organisatinos such as UNESCO to help us resolve problems and help research.
"We are planning to compile an International Bamboo Code, as an initiative for promoting bamboo usage."
 Source: The Hindu