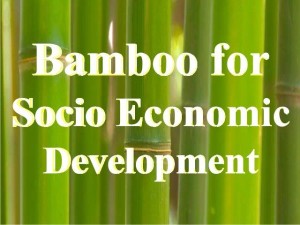 From a 'poor man's timber' to 'green gold', bamboo is fast emerging as the super material of the 21st century.
Bamboo is one of the fastest growing and highest yielding renewable natural resource making it a good substitute to wood in mitigating pressure on natural forests. Bamboo is a family of grass; it matures in as little as 3 to 5 years much faster than hardwood trees. It sends out new shoots after each harvest. Bamboo has unrivalled capacity to capture carbon.
Bamboo has immense economic potential. Bamboo flooring is a hot trend. It is uniquely attractive, strong, resilient, moisture and stain resistant and environmentally friendly. Bamboo is also increasingly used for making panels & cabinets. Bamboo Charcoal has found extensive use in personal & healthcare products. Many nutritious and active minerals can be extracted from bamboo – these have anti-oxidation, anti-aging, anti-bacterial and anti-viral functions. Bamboo toothbrushes, bamboo charcoal toothpaste are finding extensive use across the world. Bamboo charcoal face packs, soaps, shampoos are new personal care products that are hitting the market.
From Super deluxe eco homes in modern eco villages to affordable bamboo homes in flood affected areas; this is yet another big opportunity. Bamboo Bicycle projects has become a huge success in driving socio economic development. Bamboo usage as a source of energy is another huge potential opportunity. Bamboo Shoots has Nutritional Properties of Bamboo: it has big potential and prospects for Utilization as a Health Food. Bamboo decorative handicrafts, bamboo furniture …the list is endless.
India has the second largest reserves of bamboo in the world. Leveraging this can spur gainful employment and income generation especially in states like Assam and the rest of North East India which has substantial bamboo reserves and where bamboo is an intrinsic part of the local culture.
Asian countries like China, Indonesia, Taiwan, Philippines, Malaysia, and Vietnam are making tremendous progress in Bamboo and truly proving that Bamboo is Green Gold. We need promote the social, environmental and economic advantages of Bamboo to build youth engagement in bamboo cultivation and bamboo entrepreneurship.
Guwahati, the capital of Assam is all set to host Green Gold Bamboo Summit on April 28-29, 2017. It will be a thought leadership platform that will bring together relevant stakeholders to deliberate & discuss new ideas, new opportunities, and new collaborations to enable the Bamboo Industry take the big leap. The event will showcase Bamboo as the ultimate socio economic development opportunity bringing all relevant influencers under one umbrella to draw the Bamboo dividend.
The Summit is designed to witness Assam government leadership articulate its policy intent while industry representatives get to share their experience and gain from the emerging conversation. The Summit brings live innovative and interactive formats to make Bamboo top of the mind in terms of its use, relevance and influence. 
Bamboo catchment area is exceptional in the sense that it brings under its ambit a whole swathe of small and medium enterprises with a potential to position Assam as the business leader in the space.