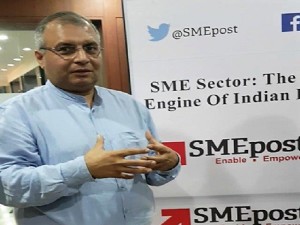 Global furniture retailer, IKEA, has identified Assam as a potential source of procuring bamboo and making it locally for global consumption, as part of company's plans to ramp up operations in India.
Unveiling company's plans for the North East, Sandeep Sanan, New Business Development Manager, South Asia, told SMEpost.com in an exclusive interview that "It (Bamboo) is a big gold mine. There is a huge opportunity and a huge potential. If we are able to make the products here, they will be globally competitive."
Articulating the business potential of Bamboo Small & Medium Enterprises (BSMEs),Sanan said, "We have a supply chain. We are linked to SMEs who are attached to our supply chain. We are working very closely with them on skill development, sharing global best practices and technical know-how so that they are globally competitive and are most importantly compliant regarding people and planet."
Whatever we do we are keen to ensure that we make a positive (every touch point) and environment friendly impact on the people, a bullish Sanan argued.
Asked to rate bamboo entrepreneurs here, the IKEA business development manager for South Asia declared, "In terms of entrepreneurship, they are among the best in the world. There is a huge amount of energy and ambition."
Drawing the road-map ahead, he admitted that there were gaps in breaking into volume production and use of efficient and latest technology. "The reason is there is a lot of batch production that happens here keeping in mind the local demand. We are trying to work along with them. We are striving for the ideal combination of hand crafted and the latest technology to draw the full dividend."
IKEA is keen to work closely building capacities and enhancing the knowledge quotient for small bamboo entrepreneurs. Areas identified for the purpose include better preparation for global compliance, transfer of know-how, and overall education in terms of forging a cogent and enduring relationship for long term benefits.
Sanan, who addressed the Green Gold Bamboo Summit, an Assam government initiative in media partnership with SMEpost.com, held at Guwahati, also made a fervent plea for engaging closely with bamboo farmers for leveraging its true potential. He disclosed the company is driven by the Amul model where cooperative structure drives the growth.