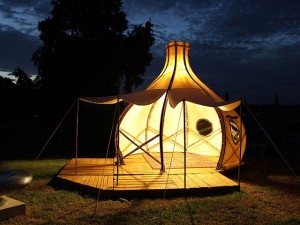 "Promoting the use of bamboo is at the heart of what we do at Giant Grass", says the company's website. Its latest offering is the glamourous (f)route POD – a semi-permanent structure which can be used for camping, accommodation, as a studio or meditation space or possibly used as a gazebo in backyard or for weddings and events. The pod has an octagonal plan with an inner diameter of 3m and maximum internal height of 2.4m, which provides ample room and head clearance.
The shape of the pod is designed to maximise standing room allowing better utilisation of the space inside. Two flaps open up as awnings to create a free-flowing space that connects the inside space with the nature around. The raised timber deck provides space for outdoor seating and a threshold between the outside and inside. The pod is very easy to transport and would take around 45 minutes for 2 people to set-up.
Led by the two bamboo entrepreneurs Munir Vahanvati & Mittul Vahanvati, Giant Grass focuses on leveraging enormous potential of bamboo in its most natural form while retaining the overall integrity of this super material.
"Our interest in bamboo is grounded in the intention to foster the use of this structurally high-performing, low cost and ecologically sustainable material in small-scale building industry. To achieve this vision we not only engage in design and building of bamboo structures but also conduct hands-on construction workshops imparting awareness about the possibilities with bamboo".
Image Courtesy: www.giantgrassdesign.com