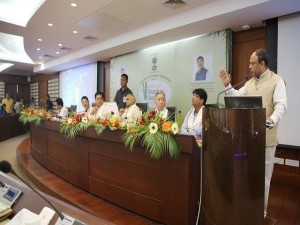 In a major initiative towards achieving the target of harnessing the huge potential of the bamboo industry in Assam, the Sarbananda Sonowal-led State Government organised the first ever Green Gold Bamboo Summit in Guwahati on April 28, 2017 .
The Summit, held under the aegis of the Assam Industrial Development Corporation brought together all relevant stakeholders associated with the Bamboo value chain.
The Summit was attended by close to 300 delegates from Assam, the rest of North East region and potential investors form across the country apart from an international delegation from Taiwan. The overall theme of the Summit was 'Make In Assam: Harnessing the Bamboo Wealth'.
Terming the summit 'A major turning point in the industrial scenario of Assam', Ravi Capoor, Addl Chief Secretary, Department of Industries & Commerce, Govt of Assam said, "Our aim is to overcome the limitations we have regarding the species of bamboo available here, and promote private buying of bamboo in the state."
The department is preparing a road-map to harness the bamboo resource in the state in collaboration with the state forest and agriculture department.
"We have constituted an internal committee with the forest and agriculture department to find ways on how to we increase the productivity of bamboos and tap into it for commercial purpose. We have conducted survey in the forest areas of the state to find out the types, availability and quality of bamboo," Capoor said.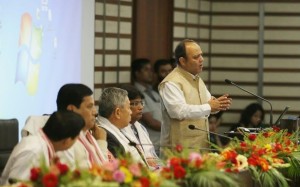 To promote the same, the Assam Industrial Development Corporation (AIDC) had promoted Bamboo Technology Park, set over a 60 acres land in Chaygaon, about 45 kms from here, back in 2010.
Abhijit Baruah, one of the promoters of the park and member of AIDC, said, "The availability of commercially viable bamboo in the state is a big challenge. Also, procuring bamboo from places far from the place of production brings down the profit margin. So we are trying to reach out to 10-15 industries and form clusters of villages within a 15 km radius and educate the villagers regarding plantation".
The primary object of the project is to provide infrastructure facilities to bamboo entrepreneurs against payment of user charge. An area of 60 bigha has already been developed with road, drainage, electricity and water amenities, part of which will be leased out to entrepreneurs to set up their bamboo based factories. A modern Common Facility Centre has become operational that has modern equipment for producing many innovative bamboo products. An R&D facility and Design Centre is planned. There is a Marketing Centre with exhibition space and training infrastructure.
The Bamboo Park is located in Jambari Industrial Growth Centre in Kamrup Rural district, its nearest town is 13 km away in Chaygaon and is 80 km from Central Guwahati. The international airport is 50 km from the location and the railway station at 78 km. It is connected by motor able road from NH 31.