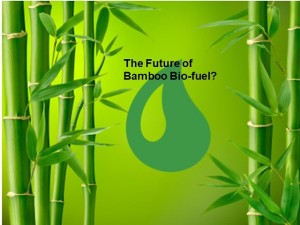 Discussion around renewable energy has always taken global center stage and featured as top priority for thought leaders in the quest to enable sustainable development. Surprising that bamboo, noted for its fast growth and high production, have not been leveraged as potential source of green bio-fuel.
Bamboo is one of the fastest growing and highest yielding renewable natural resource making it a good substitute to wood in mitigating pressure on natural forests. It is a family of grass; it matures in as little as 3 to 5 years much faster than hardwood trees. It sends out new shoots after each harvest. Bamboo has unrivalled capacity to capture carbon. 
Fuel characteristics
Bamboo has a number of desirable fuel characteristic such as low ash content and alkali index. The high heat value (HHV) of bamboo is higher than most agriculture residue. The moisture content in bamboo is relatively low (8-23%) in comparison to other type of plant.
In theory, bamboo biomass can replace fossil fuel since it is a renewable resources and can be processed to make different kinds of fuels (solid, liquid and gaseous fuels). Various technologies can be applied to transform bamboo biomass into other form of energy including thermal conversion (direct combustion, gasification and pyrolysis) and biochemical conversion. The products of these processes which can be commercialized are charcoal, syngas, oil and ethanol.
Ways to recover energy from bamboo biomass
There are several ways to recover energy from bamboo biomass, each process results in different products, which can be utilized in many aspects. Energy production from bamboo biomass can be classified into 2 main ways: thermochemical conversion and biochemical conversion. In the former methods, heat is used to transform bio-matters in bamboo biomass (mostly cellulose) into various products. Biochemical conversion involves the action of microorganism to transform biomass to biogas or biofuel.
Dry bamboo biomass can be used as firewood to generate heat for cooking, boiling and warming in households. It is a good source of energy for remote area where people cannot access electricity.
Direct combustion of bamboo biomass can also applied in industrial scale, for example, in form of co-generation to produce heat and power in thermal power plant for electricity production or other plants such as cement or steel. The co-generation helps reduce the amount of fossil fuel used in these plants.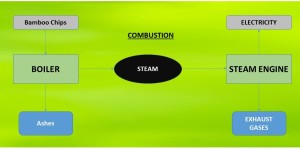 Studies and investment in bamboo plantation for energy purposes as well as for the other huge opportunities that bamboo offers as the 'super-material of the 21st century' need to increase greatly. Deforested areas could be colonized by bamboo four times faster than most native plants and trees. Villagers and land owners in rural areas should be told about the opportunities that bamboo offers; they should be incentivized to grow bamboo for our country to become energy self-sufficient.
There is already an abundance of bamboo throughout India. It has the second largest reserves of bamboo in the world. Leveraging this will not only enable build sustainable energy sources; but also spur gainful employment and income generation especially in states like Assam like the rest of North East India which has substantial bamboo reserves and where bamboo is an intrinsic part of the local culture.
To incentivize this cleaner fuel, soon we will come up with a #biofuel policy; potential of this industry in India is btw 1-1.5 lakh crore. pic.twitter.com/TrtXnW24Tj

— Dharmendra Pradhan (@dpradhanbjp) August 10, 2017
Also read: NRL signs term sheet with Finland's Chempolis Oy for its bio-refinery project; to give fillip to bamboo cultivation in the region