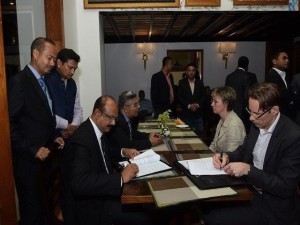 Numaligarh Refinery Limited (NRL) a public sector oil company in Assam, North East India has signed a term sheet with technology company Chempolis Oy of Finland. The framework agreement undertakes to implement NRL's Bio Refinery Project in two phases, a company release said.
Chempolis Oy develops and provides technology solutions for biomass, pulp and paper, biofuel, alcohol, sugar, palm oil, and chemical industries worldwide. 
Phase-I of the project, scheduled to be completed within six months, would involve basic engineering of the project, completion of EIA ( Environment Impact Assessment) study, obtaining EC (Environment Clearance) on modalities and logistics of sourcing bamboo feedstock, updating financial feasibility report on the project, debt financing arrangement and others, the release said.
On successful completion of Phase-I, full-fledged activities of physical construction of the plant shall be initiated through formation of a joint venture company.
The Agreement was signed between General Manager (Marketing) – Mr. B. Ekka and GM ( Finance) – Mr. S.D Maheshwari from n behalf of NRL and Chairperson- Ms Heli Antila & Director Asia Pacific & America – Mr. Pasi Rousu from Chempolis side .  Also present on the occasion were Director ( Finance) NRL- Mr. S. K. Barua ; Senior Vice President ( Tech & New Ventures), M/s Fortum Corporation, Finland -Mr. Per Langer; Ex-Ambassador of India to Finland Mr A Manickam and senior NRL officials.
Since its establishment in 1995, technology partner Chempolis has been strongly focused on developing proprietary production technologies. It has been granted approximately 100 patents. The company's mission is based on its innovative process technology and production solutions built on the use of non-wood and non-food biomass raw materials.
NRL's Bio Refinery is designed to produce 49,000 tonnes of bio ethanol annually, with co-production of furfural and acetic acid from locally available non-food biomass feedstock utilising technology from Chempolis Oy, Finland.
Bamboo is one of the major non-food biomass resources available abundantly in Northeast India and is amongst the fastest growing plants. The plant shall have the capacity to process five lakh tonnes of green bamboo on an annual basis. The bio ethanol so produced would primarily be used to blend NRL petrol as mandated by the National Policy on Bio-fuels, with the surplus to be sold to other oil marketing companies.
"As a green initiative to produce energy from renewable sources, the Bio Refinery Project is expected to give a fillip to bamboo cultivation in the region on commercially sustainable basis, generating large-scale employment and ushering in socio-economic transformation of the Northeast" an NRL official said.
NRL has already inked MoUs with Nagaland Bamboo Development Agency (NBDA) and Arunachal Pradesh Bamboo Resources Development Agency (APBRDA) in the latter part of 2015 for sourcing of bamboo for the Bio Refinery.