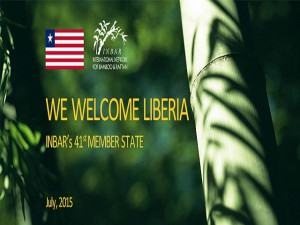 The Republic of Liberia has become the 41st Member State of the International Network for Bamboo and Rattan (INBAR), the multilateral development organization that promotes the use and benefits of these forest resources worldwide. With its accession to INBAR, Liberia is now the Network's 18th African member, an important development in this continent that is showing a growing interest in harnessing the benefits of bamboo and rattan for improved rural livelihoods and building green economies.
Liberia has a long history of using bamboo and rattan. These plants are part of the country's culture and are used in a range of local economic activities that benefit rural communities. Today, its local businesses produce bamboo and rattan furniture, crafts and household items. A next step in developing these resources is to improve the productivity and yield of bamboo and rattan in Liberia's forests and use them to create new kinds of businesses and industries.
Liberia's INBAR membership and its will to further develop bamboo and rattan come at a good time, says INBAR Director General, Hans Friederich. "More people are recognizing the benefits of bamboo and rattan and many countries and development partners are asking how these plants fit into green economy action plans. To answer these questions, you need a clear picture of your resource base and access to practical information on business and job creation options, "he says.
"The Global Assessment of Bamboo and Rattan (GABAR) can help. This a platform created by INBAR and its Members with a number of development agencies, to improve the speed of learning and exchange of practical information on bamboo and rattan development. The GABAR platform will help Liberia – and many other bamboo and rattan resource countries – to gain practical knowledge on approaches that they can apply to better manage their resources, and see new options for economic growth," he says.