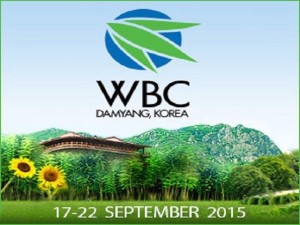 In November 2012, WBO President Michel Abadie, WBO, CEO Susanne Lucas and Damyang-gun Governor Choi Hyung-sik announced Damyang, in South Korea as the official host of the 10th World Bamboo Congress, WBC.
The 10th World Bamboo Congress will be very unique: it will coincide as part of the World Bamboo Fair 2015, beginning September 17 until October 21, 2015. This exposition will show ways to improve the value of bamboo on an international level under the slogan "Bamboo for a Greener Future". The congress will be from September 15, 2015 to September 22, 2015
Damyang is one of the northernmost places where bamboo can be found on the Korean peninsula. It is a major touristic attraction and boasts of a Bamboo Theme Park / Daenamugol, a Bamboo Museum, a Bamboo Festival, a park filled with green bamboo.
The first edition of WBC was held   in Puerto Rico in 1984 and since the each WBC has initiated and put in place partnerships that have contributed to the growth of bamboo and made a difference to the environment and people across the world. These events have been uniquely informative, educational, culturally and intellectually challenging. The events highlight the state-of-the-art in bamboo science, technology and industry.
The WBC 2015 in South Korea will kick-off the World Bamboo Fair beginning September 17 until October 21, 2015. It will consist of a variety of bamboo exhibition halls featuring ecology, history, science, construction and Green Development, with an anticipated audience of over 90,000 visitors. Special cultural programs, workshops, competitions, music and more will give people of all ages and all backgrounds a reason to truly celebrate all things bamboo.