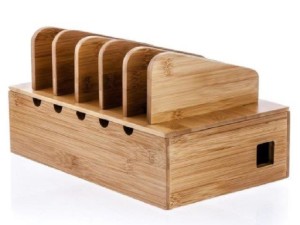 E-commerce brand Prosumer's Choice brand releases new Bamboo 3 Rack Tablet and Smartphone Charging Station for device organization as well as power management. 
The multi-device charging station is universally compatible with popular Smartphones and Tablets and works with power strips or USB chargers. The 3 rack model adds to the Prosumer's Choice line of eco-friendly Bamboo multi-device charging solutions.
There are so many reasons why Prosumer's Choice loves bamboo. Bamboo is naturally harvested and environmentally friendly. Bamboo is sturdy yet light weight and bamboo naturally resists mold which is why it has a whole category dedicated to this amazing super renewable resource.
The Bamboo 3 Rack Smartphone and Tablet charging station powers up to three Smartphones or tablets simultaneously. The slimline design takes up little space on a desk, kitchen counter, or nightstand and serves as an organizational tool for securely storing digital devices. The Bamboo charging station works with many Smartphone and Tablet models, including iPhones, Android phones, iPads, iPad minis, and Samsung Galaxy. There's also a pull-out storage space to keep USB cables or power strips hidden while the devices charge.
"Our new Bamboo 3 Rack Charging Station complements our existing product line well," notes Perry Solomon, Prosumer's Choice President and Founder. "We released the 5 Rack model with great success, and customer demand tells us the 3 Rack design will be equally as popular."
Genuine beautiful Bamboo mouse pad with Smartphone or Tablet holder for your favorite device. https://t.co/QKKOYjoktP #office pic.twitter.com/DFenhr0KZm

— Prosumer's Choice (@ProsumersChoice) June 23, 2017
California-based and family-owned Prosumer's Choice offers several Smartphone and Tablet charging solutions made with Bamboo. The new 3 Rack Charging Station represents a compact alternative to the existing 5 Rack designs making it the perfect choice for condo living, apartments, dorms, and home offices. All products in this line are made with eco-friendly Bamboo, which means they are organic and easy to clean. The natural finish makes these charging solutions ideal for any decor with an elegant appearance suitable for corporate offices.