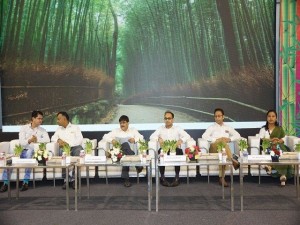 Coinciding with its 16th anniversary, the Ministry of Development of North Eastern Region (DoNER), Government of India put together an event 'NORTH EAST CALLING' (September 9-10, 2017) under its Destination North East series of this year. The purpose of the event is to promote the art, culture, heritage, cuisine, handicrafts, business and tourism of North East India.
A special Bamboo Session was organised towards achieving the target of harnessing the huge potential of the bamboo industry in the North Eastern Region of India. The Bamboo Session brought together all relevant stakeholders associated with the Bamboo value chain.
.MDoNER minister @DrJitendraSingh Inaugurates #NorthEastCalling 2017 at India Gate, New Delhi #ExploreNorthEast #NorthEastCulture pic.twitter.com/Jm6flIBap5

— MDoNER India (@MDoNER_India) September 9, 2017
The Bamboo session on Day 2 was moderated by Prof Amitabha De, Director, IIM Shillong. He stressed upon building indigenous capability to power the future of Bamboo and creating market demand.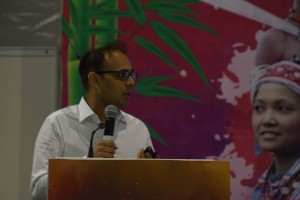 Neeraj Mutha, the progenitor of the Bamboowood dream at Mutha Industries which produces Bamboowood products under the banner of Epitome made a presentation on how these bamboo items are environment friendly. He propels the passion, marketing and communication side of the business.
EPITOME is a brand owned by Mutha Industries which courts diverse interests in capital markets, real estate and wind energy. EPITOME–Bamboowood offers flooring for home indoor, decking for outdoors and cladding for that rich feel on walls-along with doors, door frames and stunning custom made furniture.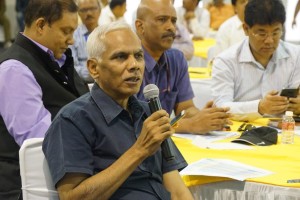 "Unlike regular hardwood, Epitome – Bamboowood knows how to tackle those pesky termites, so you don't have to worry about these. You wouldn't believe how strong this stuff is, its tensile strength gives steel a run for its money," Mutha said.
He informed that Epitome Bamboowood has built Tripura Cricket Association (TCA) dressing room and Meghalaya house in Kolkata among others.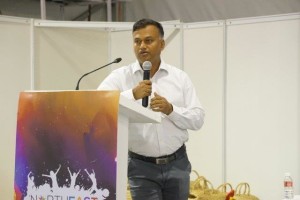 Kedar Krsuhna Panda, Assistant Vice President, IL&FS spoke about the need for policy imperatives. IL&FS has been working with Tripura Bamboo Mission as the project implementation agency to conceptualise and implement the project. TBM aims to optimise the end-to-end value chain spanning from plantation and resource generation to marketing of value added finished products.
Bamboo Evangelist Raktim Das, representing India's First Bamboo Promotion and Bamboo Entrepreneurship development Digital media platform GreenGoldBamboo.com said, "While the theme of my presentation this afternoon is on emerging bamboo consumerism and global trends, I want to take this opportunity to also express that digital platforms will play a big role in driving the future of Bamboo. Be it leveraging the power of social media to promote bamboo and inspire bamboo entrepreneurship or connecting bamboo product buyers & sellers across the world to leveraging the power of digital marketplaces to take bamboo products to doorstep of discerning consumers; digital Media has the power to empower the future of bamboo".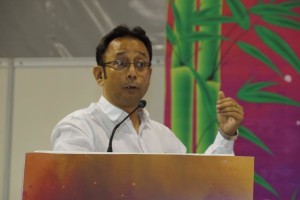 Das made a presentation featuring interesting bamboo products and some global bamboo Ideas & Inspiration that is giving an impetus to Bamboo consumerism.
Bamboo has immense economic potential. Bamboo flooring is a hot trend. It is uniquely attractive, strong, resilient, moisture and stain resistant and environmentally friendly. Bamboo is also increasingly used for making panels & cabinets. Bamboo Charcoal has found extensive use in personal & healthcare products. Many nutritious and active minerals can be extracted from bamboo – these have anti-oxidation, anti-aging, anti-bacterial and anti-viral functions. Bamboo toothbrushes, bamboo charcoal toothpaste are finding extensive use across the world.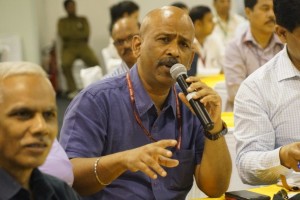 Abundant throughout North East India, bamboo has long been a go-to building material for construction players drawn to its tensile strength, light weight, low cost and mass quantities. "From Super deluxe eco homes in modern eco villages to affordable bamboo homes in flood affected areas; this is yet another big opportunity", added Raktim Das.
His presentation featured success stories from Ghana Bamboo Bicycle project and how it has become a huge success in driving socio economic development. Bamboo usage as a source of energy is another huge potential opportunity that came out during the presentation. Bamboo Shoots with its nutritional properties has big potential and prospects for utilization as a Health Food. The presentation came up with examples of how cutting edge packaging of this health product and value addition has led to revenue generation through sales to upscale consumers in various global markets.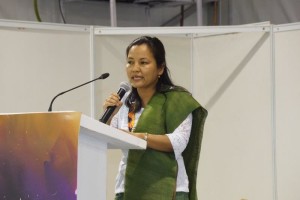 Mrs. VL Roui Kullai, Director, Ministry of DoNER summed up the session stressing upon how Bamboo is an integral part of the Culture of the North Eastern India and its potential to be a key driver of social economic development across the region. She was emphatic with the fact that Ministry of DoNER is committed to drive the future of Bamboo and her ministry has been on this path for the last few years.