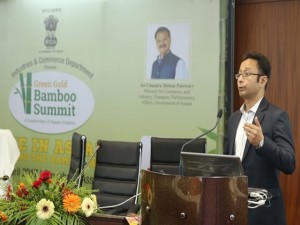 April 28, 2017 | Guwahati – the capital of Assam hosted the inaugural edition of Green Gold Bamboo Summit. An initiative of Government of Assam, the summit brought together all relevant stakeholders associated with the Bamboo value chain. It was attended by close to 300 delegates from Assam, the rest of North East region and potential investors from across the country apart from an international delegation from Taiwan. The overall theme of the Summit was 'Make In Assam: Harnessing the Bamboo Wealth'.
Speaking during the post lunch session, Bamboo Evangelist Raktim Das, representing India's First Bamboo Promotion and Bamboo Entrepreneurship development Digital media platform GreenGoldBamboo.com said, "We have discussed policy imperatives, design interventions, technology and finance. While the theme of my presentation this afternoon is on emerging bamboo consumerism and global trends, I want to take this opportunity to also express that digital platforms will play a big role in driving the future of Bamboo. Be it leveraging the power of social media to promote bamboo and inspire bamboo entrepreneurship or connecting bamboo product buyers & sellers across the world to leveraging the power of digital marketplaces to take bamboo products to doorstep of discerning consumers; digital Media has the power to empower the future of bamboo".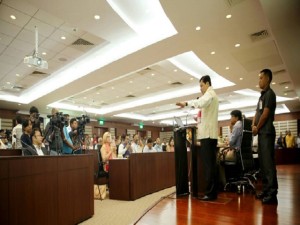 Das made a presentation featuring interesting bamboo products and some global bamboo Ideas & Inspiration that is giving an impetus to Bamboo consumerism. Bamboo has immense economic potential. Bamboo flooring is a hot trend. It is uniquely attractive, strong, resilient, moisture and stain resistant and environmentally friendly. Bamboo is also increasingly used for making panels & cabinets. Bamboo Charcoal has found extensive use in personal & healthcare products. Many nutritious and active minerals can be extracted from bamboo – these have anti-oxidation, anti-aging, anti-bacterial and anti-viral functions. Bamboo toothbrushes, bamboo charcoal toothpaste are finding extensive use across the world.
Abundant throughout North East India, especially Assam, bamboo has long been a go-to building material for construction players drawn to its tensile strength, light weight, low cost and mass quantities. "From Super deluxe eco homes in modern eco villages to affordable bamboo homes in flood affected areas; this is yet another big opportunity", added Raktim Das.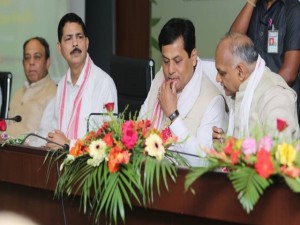 His presentation featured success stories from Ghana Bamboo Bicycle project and how it has become a huge success in driving socio economic development. Bamboo usage as a source of energy is another huge potential opportunity that came out during the presentation. Bamboo Shoots with its Nutritional Properties of has big potential and prospects for Utilization as a Health Food. The presentation came up with examples of how cutting edge packaging of this health product and value addition has led to revenue generation through sales to upscale consumers in various global markets.
"From a poor man's timber to green gold, bamboo is fast emerging as the super material of the 21st century. Leveraging this can spur gainful employment and income generation. It has huge potential in transforming Job Seekers into Job Creators" added Das.
The presentation also came up with some interesting Bamboo ideas like the Unique car park with bamboo cladding at the Medical Centre and Blood Bank in Amsterdam, the innovative Sharma Springs – a 6-level, 4-bedroom 750sqm home overlooking the Ayung river valley built in Bali built almost entirely of bamboo to how Giant Grass is giving camping a whole new glamorous experience.
Talking about Bamboo Charcoal Pillow, Das spoke about how the pressure-relieving memory foam in this soft pillow is washed in a charcoal solution to help eliminate odours and how it also features ventilation pores for breathable comfort throughout the night.
He gave examples of how an increasing number of sellers of Bamboo charcoal Knee and elbow sleeves listing themselves on B2B global marketplaces is a clear indication of the growing demand for these products.