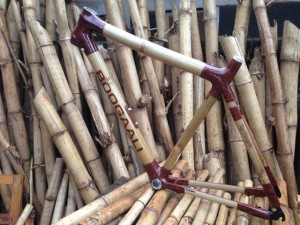 It's in his workshop, in the capital city of Kampala, that young Ugandan entrepreneur Noordin Kasoma designs bicycles made from bamboo. His company, Boogaali Bicycles limited, produces bicycles that are, not only affordable but also sustainable.
In an industry dominated by steel and aluminium, the use of bamboo is not as bizarre as it might seem. Kasoma says his bikes are strong, light and durable. They are also comfortable, he says.
"The bamboo itself tries to absorb the shocks that you are passing through, better than steel or aluminium."
Bamboo frames aren't uncommon in the cycling world. Noordin's bicycles, however, come with a Ugandan spin: the joints are reinforced with bark cloth, a traditional clothing material extracted from the inner bark of the Mutuba tree.  
In addition to being hand-crafted, the Boogaali bamboo bicycles are customized according to the cyclist's needs and specifications.
Creating jobs in Uganda
Besides Uganda, the Kasoma's bikes have also found success in other parts of the world, such as East Africa, Europe and America. Concerning the price point, the Boogaali bicycles cost between 350 and 450 dollars, depending on the size and on the design.
Currently employing about twenty workers, Kasoma hopes to expand his company by teaching young apprentices his unique technique of production.
The young manufacturer also hopes that his bicycles would help boost bicycle tourism in Uganda, which is already a popular tourist destination.
Source: Afrika-News