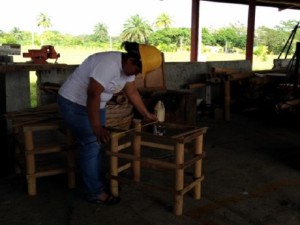 In 2013 EcoPlanet Bamboo launched a trade and training school to teach marginalized communities to create value added products from unprocessed bamboo.
The bamboo trade school, located at Central American is freely available to participants and aims at empowering women as well as seasonal workers by providing them with the knowledge and skills required to make artisan bamboo furniture and handicrafts. Once trained, microfinance loans and a supply of bamboo are provided to these individuals to stimulate entrepreneurism and the development of microenterprises.
Loans are paid back upon successful sale of crafts, leaving the individuals with their own job security. This program increases skills training, interest and appreciation for bamboo and the creation of long term jobs at the community level, on top of the company's 300+ permanent jobs. EcoPlanet Bamboo's business is the planting and harvesting of commercial scale bamboo plantations and is aimed at serving large global timber based manufacturing companies.