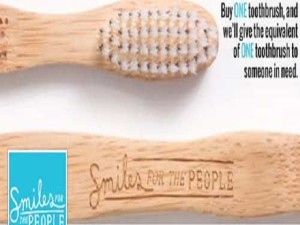 A biodegradable bamboo toothbrush offering comfort and firmer grip is the latest bathroom accessory.  The brush has an ergonomically curved design that makes it comfortable and beautiful.  The company's website describes it as a small company with a BIG vision. 'Smiles for the People' donates one toothbrush to someone in need, for every purchase.
Oral health care is frequently viewed as inconsequential in the fight against poverty, but 'Smiles for the People' see it differently.  It feels that proper dental hygiene leads to better nutrition, more focus, increased capacity to ward off sickness, increased self-esteem, and more opportunity.
"Smiles for the People are a 'for-purpose' business. The purpose of the profit we earn is to sustain our development activities and expand our movement. Our collective humanity calls all people to care for one another. In a world of increasing inequality and injustice, our purchasing decisions can, and too often do, lead to unforeseen and unwanted consequences. However, Smiles for the People exists because we believe a new kind of consumption (and a new kind of company) is possible. We believe that consumers can use their purchasing power to pursue a cleaner, healthier environment and help people lift themselves out of poverty" is how the company describes itself and its business.