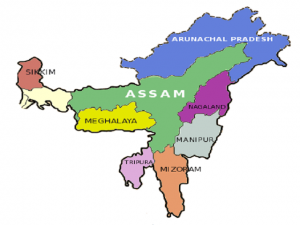 A Memorandum of Understanding (MoU) was signed on October 10, 2015 at Itanagar in presence of Chief Minister Nabam Tuki between Numaligarh Refinery Limited (NRL) and Arunachal Pradesh Bamboo Resources Development Agency (APBRDA). The MoU was signed by Yura Tugung, Vice Chairman, APBRDA and Bruno Ekka, General Manager (Marketing & BD), NRL.
Also present during the signing ceremony were Health Minister Rajesh Tacho, Minister PHE Takam Pario, State Rubber Board Chairperson Likha Maj and officials of the APBRDA.
The understanding will pave way for sourcing 3 lakh tons per year by NRL, a public sector enterprise under the Ministry of Petroleum & Natural Gas, Government of India, from the state.
NRL is implementing a Bio-Refinery in Assam to produce bio-ethanol from available non-food bio-mass feedstock bamboo. The project is proposed to be implemented in 2 years time.
Bamboo is one of the major non-food biomass resources available abundantly in the North East, particularly in Arunachal Pradesh, and is amongst the fastest growing plants.
NRL has joined hands with a Finland based technology provider M/S Chempolis, which has a 3rd generation technology to convert bamboo to ethanol in commercially viable basis, which is much ahead of other established technology providers for conversion of bamboo to ethanol.
Tuki appreciated APBRDA, particularly its Vice Chairman, for the novel initiative that would offer a permanent source of revenue generation for bamboo farmers and communities owning vast bamboo groves in the state.
He advised the officials of NRL to coordinate with APBRDA and conduct awareness camps across the state for benefit of bamboo growers. He observed that people will have to be made aware of the benefits of the understanding and equip them with scientific know-how on regeneration of bamboo plants.
"The technique of recycling the bamboo plants has to be imparted to the people so that while on one hand bamboos are cut down for outsourcing on the other hand these are re-grown. This must go simultaneously so that at no point of time bamboo gets scarce," the Chief Minister pointed.
While assuring to take the suggestion seriously, NRL authorities informed that the MoU will enable to identify bamboo catchment areas for primary processing by the communities for converting into bio-fuel. It will also set up bamboo processing clusters in the state, which will ultimately promote bamboo plantation and processing for value addition along with providing large scale sustainable employment opportunities for people in bamboo plantations and bamboo semi-processing units.
"We look forward for successful implementation of the MoU for availing long term supply of bamboo for the bio-refinery on mutually beneficial terms for both Arunachal Pradesh and NRL," said the NRL GM.
Meanwhile, on drawing attention of the NRL towards scarcity of petroleum fuel like diesel and petrol hitting the state at times by the Chief Minister, NRL authorities informed that NRL is under process of laying a product pipeline from Numaligarh Refinery in Assam to Itanagar (Doimukh IOC depot).
"We have already done the preliminary survey for the 55 km pipeline and it will cross the Brahmaputra river from Kamargara to Gohpur" informed Sharma, Manager (BD-Pipeline) of NRL.