Born in India, Bamboo has always been passion for Shanti Pierce. Her company BAMBOO LEAF TEA based in Florida makes and sells a variety of organic teas, but Shanti's bestselling tea is Bamboo Leaf Tea which is made from 100% bamboo leaves grown and processed by hand in sunny Florida without the use of any chemicals. "Having studied architecture in college I immediately gravitated to the many aspects of building with bamboo. Architects like Oscar Hidalgo and Simon Velez had been doing amazing projects with bamboo and again I was in awe of the versatility of the plant and creativity of these artists. I also started to study the lesser known uses of bamboo such as food, medicine, beer, charcoal, and tea. As I gravitated to the finer details of the plant I started to develop my own version of Bamboo Leaf Tea which my family and I have been enjoying for several years now", say shanti Bamboo Leaf Tea has a wonderful sweet, green flavor that aids and balances both mind and body. As well as tasting great the tea has many benefits.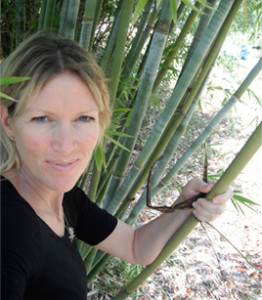 Bamboo has the highest vegetative concentration of silica of any plant. Silica is what allows bamboo to grow so fast and strong and yet maintain that beautiful flexibility. It does that to all parts of the body. Bamboo is also high in fiber and the tea contains 4% soluble fiber. This is a must for anyone who suffers from stomach tension or other digestive issues. Soluble fiber actually coats the lining of the digestive system allowing it to relax. So try this tropical wonder and bring the essence of bamboo into your day. " Bamboo leaf tea and bamboo leaf extract have been used medicinally in the Indian Ayurvedic tradition as well as in Chinese medicine for hundreds of years. Bamboo leaf extract and tea has been used for detoxification of the body, to aid in digestion, in the treatment of blood diseases and inflammation, for protection against cancer and improving sleep quality. How to make Bamboo Leaf Tea? Use 1 tsp or 2 g of tea per 8 ounces of water. Allow the tea to steep for 3-5 minutes before serving. The tea can be used several times by boiling the leaves or tea sachet 3-5 minutes the second time and up to 15 minutes the third time. Boiling the bamboo allows it to open and release more nutrients. For ice tea use 1/4 cup of Bamboo Leaf Tea per 6 quarts of water (1/2cup of honey can be added if you would like a sweeter taste) – Source: http://bambooleaftea.net/faq/ )
Shanti's company BAMBOO LEAF TEA has also diversified its product range and today it also features a number of wellness products like Bamboo Charcoal saop, Bamboo Shampoo, Bamboo Mist and many more.