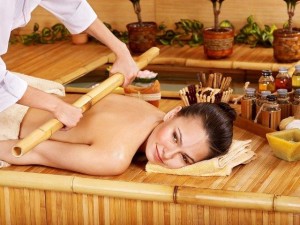 If you are one of those who cherish massage treatments, there's nothing better than the green bamboo massage therapy. Bamboo massage is an innovative way to provide Swedish or deep tissue massage using a combination of long and short heated bamboo canes to roll.
What may seem like a new technique, bamboo massage, has ancient roots and perhaps deeper associations than simply bodywork. Today, bamboo massage is touted as Bamboo-Fusion, Tian di Bamboo Massage, or simply promoted at high-end spas as the latest in exotic treatments or for massage therapists as a new tool, but bamboo can be seen as much more than a new trend or accessory. Considered to be the miracle plant, bamboo has earned its reputation from its versatility and it symbolize eternal youth, strength, prosperity, fertility and peace.
In addition to its sustainability, bamboo is also recognized for its suppleness and resilience. Bamboo massage helps blood circulation, sensory nerve perception, and lymphatic drainage and provides a deep sense of relaxation and well-being. Bamboo massage is good for neck, shoulder and upper back pain and stiffness. It also has the benefit of improving your quality of sleep and has the potential to cure depression and encourages the body's natural healing abilities.
An added benefit for the practitioner is that using the bamboo sticks helps to reduce stress and strain on hands and fingers while still allowing for deeply penetrating manoeuvres. Apart from relieving you of stress and tension, bamboo massage is also known to improve the texture of your skin. Bamboo leaf contains 2% to 5% flavine and phenolic compound that have the power to remove active oxy-free-radicals, stopping sub-nitrification and abating blood fat. Many of the top end spas have started offering Bamboo massage and skin care therapies.
Image Courtesy:http: