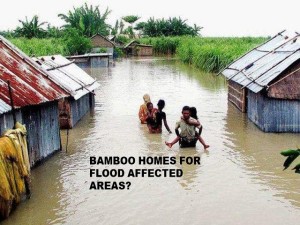 Floods in many parts of India is an annual natural calamity which often results in millions losing not only their worldly possessions but also their homes when the water level rises.
Green Gold Bamboo is happy to publish an idea sent across by a young Student of Class XII – Reeha Das from Step By Step School, Noida.
_________________________________________________________
Excerpts from the e-mail sent by Reeha Das to GreenGoldBamboo.com
I am taking this opportunity to write in to you to express my pain on seeing how every year floods devastates the lives of our fellow countrymen. From the various news stories, I have come across since I was a child, the horrors and devastation of floods has always evoked a sense of agony in my heart.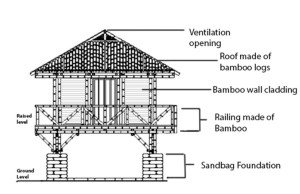 Last year as we all know floods claimed so many lives and rendered millions homeless in the three waves that hit Assam. Though I have lived in Delhi all my life, I feel a sense of duty towards the flood affected people of Assam as it is where my paternal family comes from.
Ever since having read the horrors of last year's floods, I have been thinking about how we can work out a simple solution for our brothers and sisters who live in areas which suffers from flood every year. Post floods, one of the key issues that every state faces is how to build homes for the homeless in a manner that is quick, affordable and in some way able to withstand future floods.
I have learnt that Bamboo is a strong building material and that it is one of the fastest growing and highest yielding renewable natural resource making it a good substitute to wood in mitigating pressure on natural forests and that Bamboo has unrivaled capacity to capture carbon.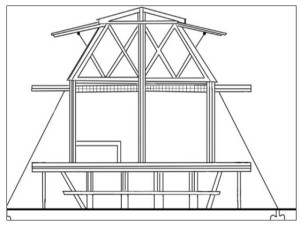 I have tried to put together a simple concept of 'Affordable Bamboo Housing' for flood affected areas which I think can help in reducing the havoc caused by floods. Even our metro cities like Mumbai where there are so many slums which suffer so much during rainy season can benefit immensely from Affordable Bamboo Housing for all. These will be cost effective, quick to build and environmentally friendly.
Before the onset of the rainy season this year and the subsequent floods, it would be great for us as a nation to evaluate affordable bamboo housing solutions which could be effectively implemented in the flood prone areas. 
I have had the privilege to share this idea with Mission Director of National Bamboo Mission, Dr. Alka Bhargava. She liked the concept and it was an honour to receive a letter of appreciation from her.
I am taking this opportunity to attach herewith the same concept presentation on how Bamboo Homes in flooded affected areas can be an Affordable disaster-proof Housing solution.
It will be a great honour if you can please publish the same in your website so that the idea can be get disseminated to relevant policy makers and business leaders. I am confident that this can be a great Affordable disaster-proof Housing solution for flood affected areas.
Best regards,
Reeha Das
Class XII, Step By Step School, Noida

__________________________________________________________ 
Bamboo – one of the fastest growing renewable natural resource is today widely acclaimed as the super material of the 21st century. It has immense economic potential given its diverse use. Bamboo is a good substitute to wood in mitigating pressure on natural forests. Bamboo is a family of grass – it matures in as little as 3 to 5 years much faster than hardwood trees which can take 20 years or more to reach maturity. It sends out new shoots after each harvest. It protects steep slopes, soils and water ways, prevents soil erosion.
Bamboo is an extremely strong resource – at par with standard hardwoods, when cultivated, harvested, prepared and stored properly. It has a great capacity for shock absorption, and hence is particularly useful in earthquake prone areas.
India has the second largest reserves of bamboo in the world. Leveraging this can spur gainful employment and income generation especially in states like Assam and the rest of North East India, which has 66% of India's bamboo reserves and where bamboo is an intrinsic part of the local culture.